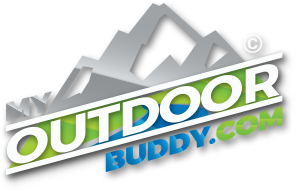 Your Source for Outdoor Adventure
Northern California and Southern Oregon
California's Heritage Trout Challenge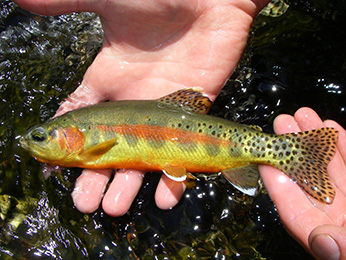 California golden trout
Photo Credit: Photo courtesy of CDFW
The pursuit of trout, especially trout that have never seen a Purina trout pellet, the concrete walls of a hatchery run or the stainless-steel lined siding of a hatchery truck is a quest taken by many anglers and a dream for others. The California Department of Fish and Wildlife has established a unique program that educates, promotes, encourages and rewards anglers so dedicated. The California Heritage Trout Challenge will take anglers to each corner of the North State, in the shadow of majestic Mt Shasta, along coastal rivers and into the Eastern and Southern High Sierras in search of wild native "heritage" trout in their designated historic waters.
Three subspecies of Cutthroat Trout and eight subspecies of Rainbow Trout have been identified as native to California and while some have been distributed through stocking programs into many waters throughout the state such as the California Golden Trout and the Eagle Lake Rainbow only those wild trout caught within the designated native waters qualify for the challenge.
The three cutthroat subspecies are the Coastal Cutthroat, Lahontan Cutthroat and Paiute Cutthoat. The rainbow subspecies are the Eagle Lake Rainbow, Coastal Rainbow, McCloud River Redband, Goose Lake Redband, Warner Lakes Redband, Kern River Rainbow, California Golden and Little Kern Golden.
The challenge is to catch any six of the qualifying species, documenting the catch and taking photo evidence following the criteria and qualifications set forth by the department. The necessary form (FG 737C) is available through any local CADFW office or online through the department's website www.dfg.ca.gov. The website also outlines the designated waters where each trout must be caught to qualify. Those who accomplish the challenge will be rewarded with an attractive personalized certificate (suitable for framing) detailing the accomplishment. There is not a time limit on completing the challenge as many anglers take years to accomplish the quest.
The pursuit is not often easy, in most all instances this is not a drive to get out of the car kind of adventure. In the case of the Golden Trout subspecies the historic waters are found far off the beaten path only reached by backpacking or horse-packing into the high Southern Sierras. The adventure will take the angler into some of the most spectacular scenic areas of the state. The often-quoted statement that "trout don't live in ugly places" will be seen as never more truthful for those who seek the challenge.
Gary Heffley has been a valued contributor to MyOutdoorBuddy for over 10 years serving as manager, sales representative and reporter for much of Northern California. He is an avid outdoorsman and loves to fish and write about his adventures. He has a long history in the Sporting Goods field and uses that extensive experience to impart his wisdom in his writing.
MyOutdoorBuddy.com © 2020. All Rights Reserved.
Website Hosting and Design provided by TECK.net