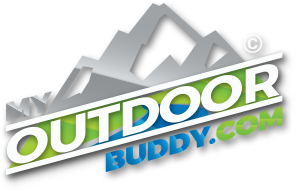 Your Source for Outdoor Adventure
Northern California and Southern Oregon
Another Great Free Kids Fishing Day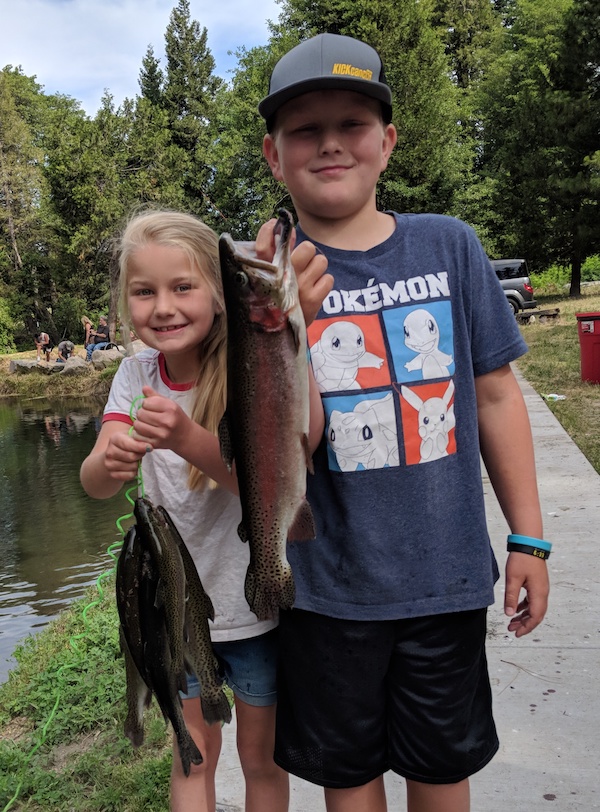 This is what it is all about. Jenna and JJ Walker of Mt Shasta with a limit of nice trout caught at the Free Kid Fishing Day held at the Mt Shasta Fish Hatchery July 7.
Photo Credit: Courtesy of Gary Heffley
With over 535 happy young anglers participating in the latest Free Kids Fishing Day event at the Mt Shasta Fish Hatchery a great day was had by all. Most anglers caught a limit of 3 trout with many of the trout going over 3 and 5 pounds. Some of the trout topped out at 8 pounds or better. The anglers and families along with the many volunteers could not have had a better day.
A frequent call went over the water as families with small trout nets sought out one of the volunteers carrying the big nets to assist with landing one of the big ones. The landing of a large trout was usually followed by screams and cheers heard across one of the three stocked ponds. For some of these young anglers this was their first time fishing and the first fish they ever caught. Seeing families with children just barely old enough to reel while mom or dad help hold the fishing rod is a great sight, knowing that a new life long angler may have just caught that first fish. Adults are not allowed to fish for the children but may assist.
For those who missed out on this event, remember that another Free Kids Fishing Day will be held on Saturday, August 17 again at the Mt Shasta Fish Hatchery. Fishing begins at 9:00 am and ends at 3 pm. There are many free loaner rods and reels to borrow on a first come first served basis for those who do not have their own and bait, hooks, bobbers and stringers are provided as well. Just bring a "big" cooler to take home the trout, some snacks and drinks and of course a camera to capture the memories. Hats, sunscreen and folding chairs should also be on the list of things to bring. And, yes even more fish will be added to the ponds to insure all anglers should find success.
As always volunteers are welcome, needed and helpful. For those looking to promote fishing for the next generation of anglers few things are more helpful or more enjoyable, as I am speaking as someone who has been helping at these events for about 10 years. Getting hugs from kids and even moms and grandmas are the best rewards you can get. Volunteers often help in teaching young anglers how to cast, bait hooks, give instruction on setting the hook and how to fight the fish as well as netting and removing hooks...hopefully just from the fish and not a family member. Teaching fishing etiquette and safety is also important.
For more information on attending the event or volunteering contact Monty Currier with the California Department of Fish and Wildlife at 530-225-2368. For those looking to volunteer at the last minute just bring a smile, pack a lunch and see you there.
Gary Heffley has been a valued contributor to MyOutdoorBuddy for over 10 years serving as manager, sales representative and reporter for much of Northern California. He is an avid outdoorsman and loves to fish and write about his adventures. He has a long history in the Sporting Goods field and uses that extensive experience to impart his wisdom in his writing.
MyOutdoorBuddy.com © 2020. All Rights Reserved.
Website Hosting and Design provided by TECK.net