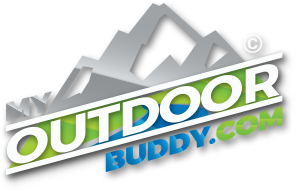 Your Source for Outdoor Adventure
Northern California and Southern Oregon
Ocean Alive with Bottom Grabbers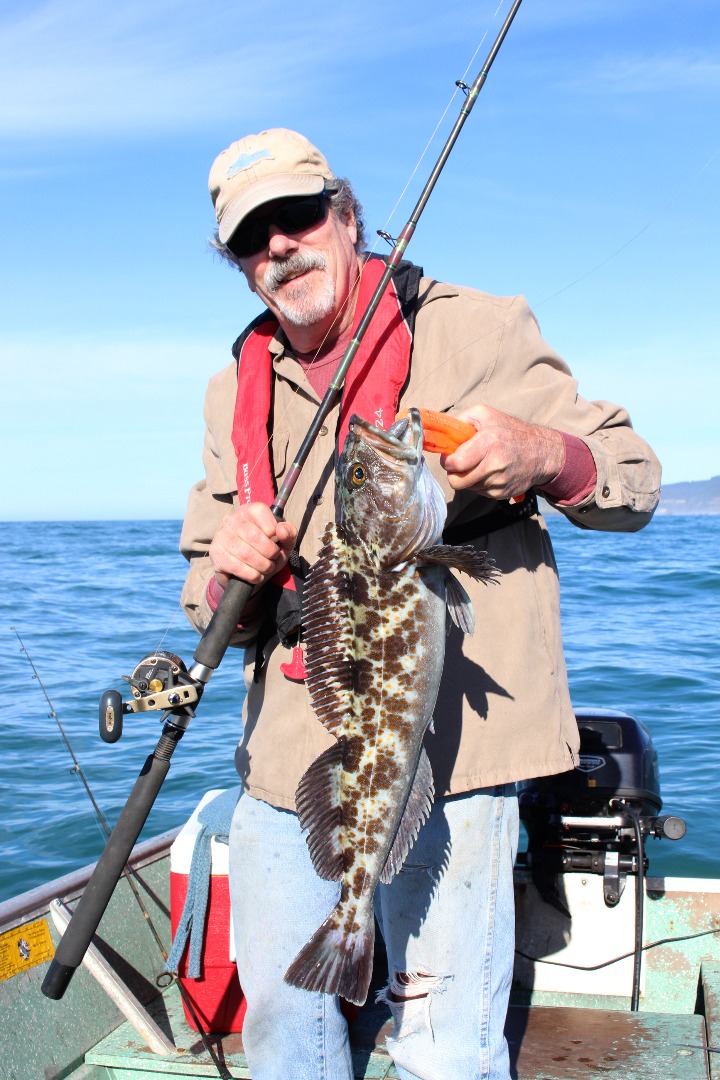 Mark Gasich proudly displays a strapping lingcod that he caught on a 2-ounce leadhead jig with a 5-inch plastic ripbait, photo by Larry Ellis.
Pacific Herring Still in Crescent City Harbor
I just love living in this little slice of heaven called Brookings. It has everything an angler could ever hope for - steelhead and salmon rivers galore, ocean fish aplenty, tuna when in season, crab fishing fiestas - you name it, it's got it. And if it isn't readily available, you can drive within a half hour to get there.
Which is what many Brookings-area anglers were doing last week. Pacific herring have still been rearing their silvery sides at Crescent City Harbor in Crescent City, California.
This year however, the esteemed baitfish have not been found in their usual haunts. I made three trips to Crescent City last week and the herring have not been in the Citizens Dock area as strongly as they were in former years.
This year, the herring are fat and plentiful, but they have been found in thick, patchy schools rather than in one single large school.
I took a drive to the B Street Pier on one day, and found that anglers had been catching herring there too, which is not a commonality. But nevertheless, anglers were walking away with buckets and ice chests filled with herring.
By the way, the B Street Pier is one of the only places where anglers can fish or crab without having to buy a California Fishing License.
Another very common place where I found herring was at the public boat launch area on the docks themselves.
There have also been lots of fishermen launching drift boats and 15-foot aluminum boats such as the Valco, Western and Gregor brands, as well as a plethora of other similar-type fishing vessels. Launching a boat gives you the opportunity to follow various baitfish schools as they gallivant around the harbor.
Another great spot has been on the jetty that lines the harbor and leads to one of the openings to the public boat ramp. The jetty on the other side of entrance to the public boat ramp has "no fishing" signs posted all over the area, supposedly protecting the very small cove near the Coast Guard Station that is home to juvenile rockfish and lingcod and is lined with eel grass.
I also spotted patchy black areas of herring off of the jetty at Whaler's Island, so there are numerous places where a person can catch tons of herring.
So, how long will the herring be in Crescent City Harbor? That all depends on the whim of the herring. They could be here another week or two or they could decide to pack it up and call it a year in a couple of days.
Bottom Fishing Superb Out of the Port of Brookings Harbor
Last week Mother Ocean was again kind to Brookings-area anglers, and with 5 knot winds and a very small swell, limits of rockfish and lingcod were once again being filleted at the Port of Brookings Harbor's fish-cleaning station.
And the optimum weather conditions are predicted to continue through the weekend and into next week. But please, check the National Weather Service's web page every day for up-to-the-minute forecasts.
On Wednesday of last week, a friend and I decided to trip the bottom-grabber fantastic and made tracks for some local rock fishing haunts.
Note that you do not have to travel to House Rock or Twin Rocks to get your bottomfish. On beautiful days such as those that have been happening of late, some anglers have been heading uphill to get their lings and rockfish.
But when you head to those 20-minute excursions, the wind will usually kick up in the early afternoon and the ocean will be white-capping. If that happens, don't be surprised if it takes you an hour and a half to get back home.
In any event, there so many rockfishing spots uphill toward the smoke, that they literally have not been named.
We started fishing in a local area in approximately 50- to 60-feet of water and started promptly picking off some black rockfish that averaged anywhere from 3 to 5 pounds.
The trick in getting these fish to bite is to keep your lure or jig as close to the bottom as possible, and slow-hop them toward you.
Personally, I really like those 5-1/2 inch D.O.A. plastic jerkbaits made by Cabelas in the color Melon Back. If that color doesn't produce, then go with Nite Glow, which is a glow-in-the-dark color. Another great color is Arkansas Glow.
I like to take a 2-ounce jig head and then push the jerkbait onto the head, and then keep it in place by using a couple drops of the gel-type Super Glue. That's enough to hold the lure onto the head so you're not constantly having to push the body back up the hook shank.
The regular-style Super Glue is just too runny and you will end up gluing your fingers together. Not a good scenario in a boat or anywhere for that matter. So make sure to use the gel. And use it sparingly.
I hope that you also carry little bottles of acetone with you, or fingernail polish that contains acetone as that is one of the only remedies when your fingertips get stuck together with Super Glue. Just make sure that the bottles are carried in a zip-lock baggie if it's in your tackle box, or just make sure that you know where the acetone bottles are readily available on your boat.
The best spots are always those that come up from 80 feet to 55 feet or shallower. Fish the shallower flats or the drop-offs that extend to the shallow flats.
Meanwhile we caught three lingcod (minimum size length 22 inches) and then caught a few more snappers before we spotted the first whitecap, which promptly told us to "head for the barn, my friend".
When all was said and done, we had our 5-rockfish limits and were only 1 fish shy of our lingcod limits.
Meanwhile, anglers side-drifting Puff Balls-and-roe, beads, and yarn balls on the Chetco River managed to catch a few wild and hatchery fish a day when the water was 1,600 cubic feet per second.
This week, the Chetco is predicted to lower toward 1,200 cfs, so as usual, steelheaders are praying for more rain while the ocean guys are praying for more sunshine and less precipitation.
The crabbing has also been phenomenal out of the Port of Brookings, which is now open to sport-fishing and recreational fishermen.
So between steelhead, rockfish, lingcod, Dungeness crab and herring, anglers should have something to look forward to this weekend and into next week.
Tight lines!
Larry Ellis, author, writer, columnist and photographer has had a 50-year passion for fishing in California and Oregon's saltwater and freshwater venues. He is a well-known writer for Oregon, Washington and California Fishing and Hunting News, Northwest Sportsman, California Sportsman and Pacific Coast Sportfishing. He currently writes monthly for Salmon Trout Steelheader Magazine, and is the author of two books, "Plug Fishing for Salmon" and "Buoy 10, the World's Largest Salmon Run."  Both books can be bought from Amato Publications (amatobooks.com), Amazon and eBay. Ellis particularly loves living in his hometown of Brookings, Oregon - The heart of salmon country and gateway to fishing paradise.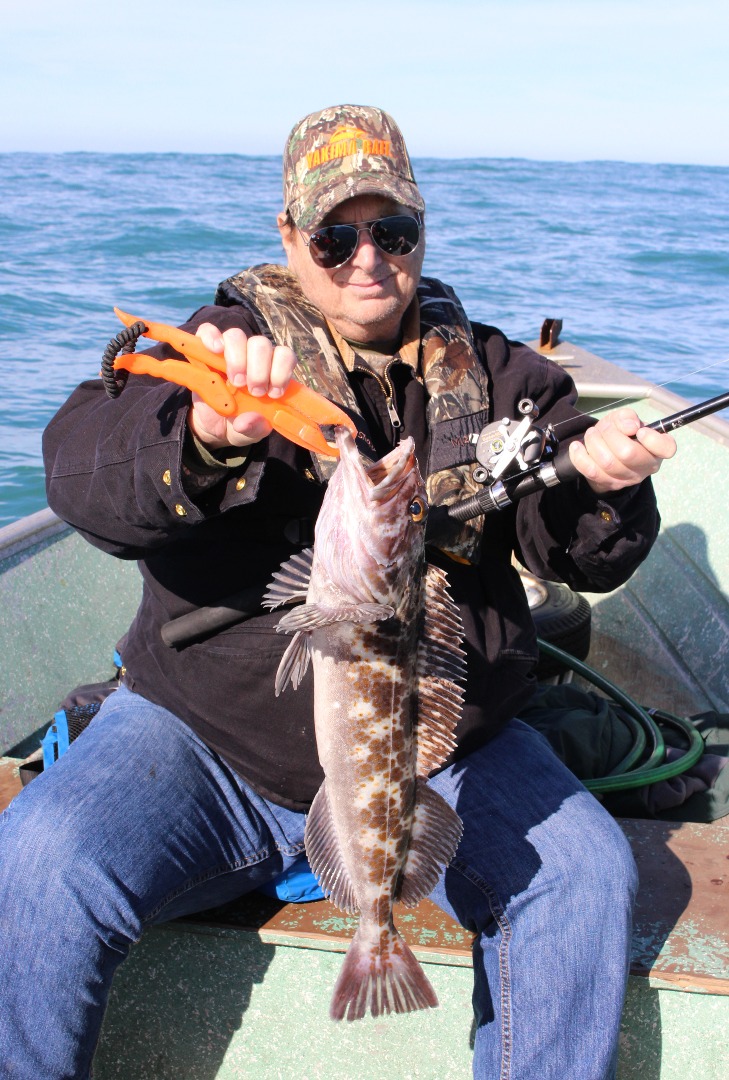 The author with a typical lingcod that he caught on a 2-ounce leadhead jig with a 5-inch swimbait, photo by Larry Ellis.
MyOutdoorBuddy.com © 2018. All Rights Reserved.
Website Hosting and Design provided by TECK.net