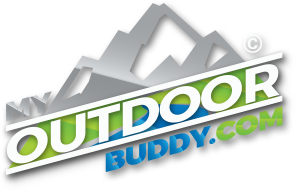 Your Source for Outdoor Adventure
Northern California and Southern Oregon
Smoke That Fish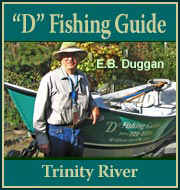 Photo Credit: Courtesy of E.B Duggan
The smoke is back in the valley but not as heavy as before. We had several days of nice clear weather after the rain which was very nice. The Bureau of Reclamation (BOR) released water from the Trinity Dam to cool the lower part of the Klamath river down and it has sent the message to the salmon. Water releases from Lewiston were increased to 1,050cfs on September 12th and will be ramped back down to 450cfs Sept. 19th and down again October to 300cfs. The salmon are showing up in the upper river section of the Trinity. The good part of this is that the steelhead are following the salmon. The bad part of this is that the Red/Salmon fire complex will determine how and when the US Forest Service will open up the forests for the deer hunters on Monday September 21st. I know I am tired of the smoke and many of the fishermen I have talked to are too. It is expected that the Red/Salmon fire will not be out until a Signiant amount of rain comes into the Trinity Alps. That could be sometime in Mid-November.
The Willow Creek weir is in and operating at the upper section Kimtu Beach but the beach access is not opened to the public yet. There is the possibility that the US Forest Service will open the day use areas on Sept. 21st which will allow fishing at Kimtu.
Junction City Weir: Was closed the after Julian week 35 Sep. 9, 2020
Willow Creek Weir: opened Julian week ending Sept. 167 Sept. 10th, ending Sept 16, 2020; Chinook, 0-Jack, 0-Adults, Coho, 0-Jacks, 0-Adults, 0-steelhead.
Recreational Harvest Count Mouth of Klamath: Julian week 36 ending Sep. 16; Below Highway 101 Bridge; Chinook Harvest, 10- Adults, 5-jacks, total 15, season total to date 2243. Chinook Harvest Above Highway 101 Bridge; 265-adults, 522-jacks, total 787, total season to date 1,649
Fishing: Fishing in the Willow Creek area is very hard if you do not have access through private property. The good news is there are salmon and steelhead throughout the Trinity. The bad news is you have to go up river in order to catch them. The Reservation is still closed to non-residents and the US Forest Service still has the day use areas closed to access.
Fishing the Upper Trinity has really pick up. Kyle Catanese of Kyles fishing Guide Service ,530-623-2328, fished four days; Wed. Sep. 16, Lewiston section, fished for salmon using plugs, hooked 3 salmon and landed 3 salmon lost three of the six. Thursday he Flyfished the Sacramento for trout catching and releasing lots in the 10-12 inches. Friday, he flyfished the Junction City run for steelhead and hooked 4, landed 3 adults up to 6lbs. (pictures below) Sunday he planned to fish the Junction City run for salmon. This is telling me that we have fresh salmon throughout the Trinity River.
Mid-Klamath to Happy Camp: The Klamath River at Weitchpec is flowing @ 2,338cfs. an increase of 339cfs from last week. Iron Gate Dam is releasing 1,065cfs as of Sunday afternoon. The Weitchpec and Orleans areas are also seeing more Fall Run fish coming through form what Kenny Peugh, of Orleans, has been seeing.
Happy Camp to I-5 is closed due to the Happy Camp fire. I-5 to Iron Gate should be fair to good for fishing trout right now if the smoke isn't too bad. The good thing is that the smoke has helped keep water temperatures down so the salmon will move up the river.
Upper Klamath River weir count: Julia week 37 ending on Sep. 16; Shasta river; 0-Chinook, 0-Coho; Scott River 0- Chinook, 0-Coho; Bogus Creek; 0-Chinook, 0-Coho.
Lake Conditions: Whiskeytown is 99% of capacity (an increase of 1%) with inflows of 2,042cfs and releasing 2,007cfs on to Keswick. Shasta Lake is 49% of capacity (a decrease of 1% minus 2ft) with inflows of 2,840cfs and releasing 4,856cfs into Keswick. Keswick is 95% (an increase of 9%) with inflows of 7,129cfs and releasing 6,902cfs into the Sacramento river. Oroville Lake is 47% of capacity (a decrease of 1% minus 2ft) with inflows of 1,583cfs with releases of 1,193cfs into the Feather River. Folsom Lake is 45% of capacity (a decrease of 2% minus 2ft) with inflows of 1,484cfs with releases of 2,182cfs into the American river.
Trinity Lake: The lake is 71ft below the overflow (an increase of 4ft) and 57% of capacity (a decrease of 2%) with inflows of - 42cfs and releasing 2,662cfs into Lewiston Lake with 2,662cfs being diverted to Whiskeytown Lake and on to Keswick Power Plant, which is releasing 6,906cfs into the Sacramento River.
Trinity River flows and conditions: Lewiston Dam is 97% of capacity (a decrease of 2%) and water releases are 433cfs into the Trinity River, with water temperatures of 49.3 degrees, as of 3:30pm today Sunday Sept. 20, 2020. Limekiln Gulch is 4.91ft at 438cfs. Douglas City is 6.51ft with flows of 456cfs. with air temps of 92 and water temperatures of 54.2 degrees. Junction City is 1.94ft at 479cfs. Helena is 8.48ft at 497cfs with water temps of 59.9 degrees. Cedar Flat (Burnt Ranch) is 2.98ft at 625cfs. South Fork of the Trinity near Hyampom is 1.84ft at 38cfs. Willow Creek is estimated at 663cfs and air is 81 degrees and water at 61.5 degrees. Hoopa is 11.74ft at 952cfs and water is 62.9degrees.
Water flows at the mouth of the Trinity River at the Klamath in Weitchpec are estimated to be 2,338cfs an increase of 341cfs.
Klamath River flows and conditions: Iron Gate is releasing 1,065cfs. Seiad Valley is 1.97ft at 1,080cfs. Happy Camp is estimated at 1,120cfs, Somes Bar is estimated to be 1,242cfs, and the Salmon River is 1.42ft at 144cfs. Orleans is 2.09ft at 1,386cfs, the Klamath River at Terwer Creek is 8.44ft at 2,909cfs and water temps are 66.6 degrees. Flows for the Smith River at Jedia Smith are 4.64ft with flows of 234cfs. and flows at Dr. Fine Bridge are 11.58ft at N/A cfs.
Temperatures in the Valley last week had a high of 82 and a low of 50 degrees. Rain for the week was 0.03in with a water year to date of 42.50 inches, with snow in Willow Creek of 1.45in. Forecasts for next week are for highs of 103 and lows of 54. The temperatures for next week are starting to move back up into the three-digit figures again. That could mead some clear sky's again. (Let's hope so)
MyOutdoorBuddy.com © 2020. All Rights Reserved.
Website Hosting and Design provided by TECK.net