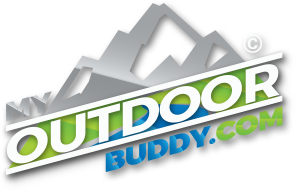 Your Source for Outdoor Adventure
Northern California and Southern Oregon
Ocean Conditions Hinder Sport Crab Opener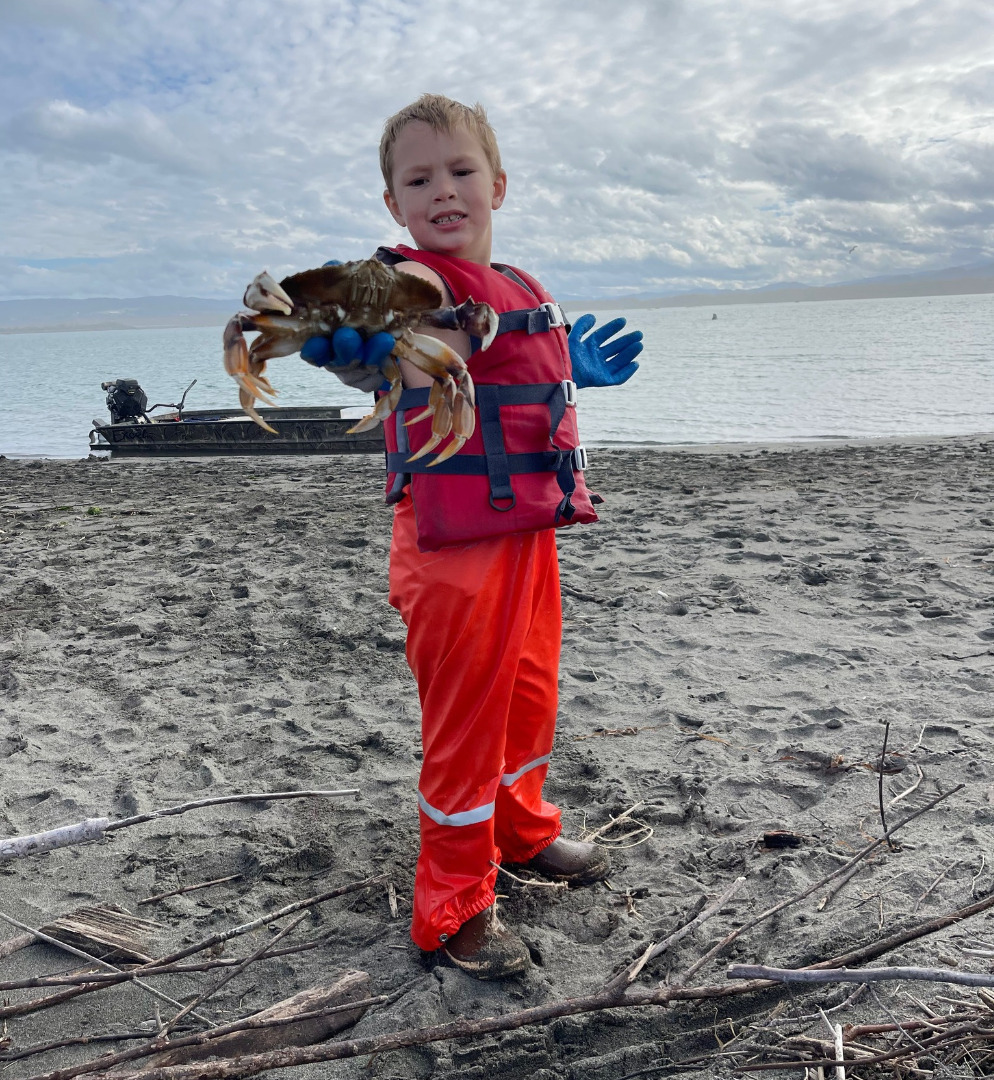 Five-year-old Carson Moore of Weott holds a keeper Dungeness crab caught over the weekend at the mouth of the Eel River.
Photo Credit: Photo courtesy of Conan Moore
Unsavory ocean conditions out of Eureka spoiled Saturday's sport crab opener, keeping most of the boats tied up. The few bigger boats who braved the rough water were rewarded with big crab, and plenty of them. The last few days, boats pulling pots after a couple-day soak, or less, are averaging 10 to 20 crab per pot. Those are pretty good numbers. Once the ocean calms down, we should see some really good hauls. Inside Humboldt Bay, crabbers didn't fare as well. It may be a bit early for crabs to be in the bay in big numbers, and that seemed to be the case. Anglers put in quite a bit of time for just a few keepers. Up in Trinidad, scores paled in comparison to last year, but that's probably an unfair comparison as last year was one of the better years in recent memory. Reports from those who took to the water Saturday in less than ideal conditions weren't great. A couple keepers per trap was the consensus. Scores improved Wednesday as some limits were reported. Further north to Crescent City, conditions kept the boats close to shore according to Chris Hegnes of Englund Marine. "Boats that fished right on the beach in 40 feet of water were getting about one keeper per pot. Outside in 80-feet guys didn't do much better, averaging about three per pot."
The season runs from Saturday, Nov. 4 through July 30, 2024. The minimum size is 5 ¾ inches measured by the shortest distance through the body from edge of shell to edge of shell directly in front of and excluding the points (lateral spines). The limit is 10 and a valid California sport fishing license is required along with the new annual crab trap validation ($2.73).
Reminder: CDFW strongly encourages anglers to follow the Best Practices Guide developed by the California Dungeness Crab Fishing Gear Working Group. Voluntary actions anglers can employ include keeping the line between the pot and main buoy taught and vertical, reducing the amount of vertical line at the surface, avoiding setting gear in the vicinity of whales and turtles, and marking gear consistent with regulations. The Best Practices Guide can be found here.
The commercial Dungeness crab fishery south of the Sonoma/Mendocino county line was scheduled to open on Nov. 15, 2023, in Fishing Zones 3, 4, 5 and 6. However, the season opener has been delayed in those zones due to presence of high numbers of humpback whales.
Weekend weather and forecast
According to James White of Eureka's National Weather Service office, after a dry weekend, we're looking at a pretty wet system arriving next week. "In the 48-hour period beginning Tuesday morning, we're looking at a potential of 2 to 3 inches of rain in Humboldt, with higher amounts in the mountains," said White. "This will be coming in from the south, which typically brings heavier amounts to the King Range. That area is looking at potentially 5 to 6 inches. It looks like there could be systems behind this one, but it's still to early to pinpoint the amounts."
The
weekend marine forecast is not looking good for offshore crabbing, with large swells in the forecast. As of Thursday, Saturday's forecast is calling for east winds 5 to 10 knots with northwest waves 8 feet at 13 seconds. Sunday is looking a little worse, with winds coming out of the south 5 to 10 knots with northwest waves 11 feet at 15 seconds. These conditions can and will change by the weekend. For an up-to-date weather forecast, visit www.weather.gov/eureka/ or www.windy.com. To monitor the latest Humboldt bar conditions, visit www.wrh.noaa.gov/eka/swan. You can also call the National Weather Service at 443-7062 or the office on Woodley Island at 443-6484.

Shelter Cove report
"The bluefin bite has slowed down quite a bit, although there were still at least a couple fish caught each day the boats tried up until Saturday," said Jake Mitchell of Sea Hawk Sport Fishing. "There hasn't been much effort the last few days as the ocean conditions haven't been great. Rock fishing remains solid, but the lingcod have been hard to come by out in deep water. Crabbing is a little slower than expected for this time of year, but still plenty to go around. I'm hearing boats are getting between 4 and 6 keepers on a two hour soak."
Proposal of 90-day extension of emergency regulations for sport California halibut
Back in May, the California Fish and Game Commission, in an emergency action, voted unanimously to reduce the daily bag and possession limit for California halibut from three fish to two fish in California waters north of Point Sur, Monterey County. This regulation took effect on June 1. Now the Commission is proposing a 90-day extension for this emergency action.
The press release issued by the Commission Tuesday states:
"Pursuant to the requirements of Government Code Section 11346.1, the California Fish and Game Commission is providing notice of proposed emergency action with regard to the Recreational California Halibut emergency regulation. Submission of comments requires that, at least five working days prior to submission of the proposed emergency action to the Office of Administrative Law (OAL), the adopting agency provide a notice of the proposed emergency action to every person who has filed a request for notice of regulatory action with the agency. After submission of the proposed emergency to OAL, OAL shall allow interested persons five calendar days to submit comments on the proposed emergency regulation.
Any interested person may present statements, arguments, or contentions, in writing, submitted via U.S. mail or e-mail, relevant to the proposed emergency regulatory action. Written comments submitted via U.S. mail or e-mail must be received at OAL within five days after the Commission submits the emergency regulations to OAL for review."
Please reference submitted comments as regarding "Emergency Regulations: Recreational California Halibut" addressed to:
Reference Attorney Office of Administrative Law
300 Capitol Mall, Suite 1250 Sacramento, CA 95814
E-mail: staff@oal.ca.gov
Fax No.: 916-323-6826
California Fish and Game Commission
Attn: David Haug P.O. Box 944209 Sacramento, CA 94244-2090
Email: fgc@fgc.ca.gov

The Commission anticipates it will submit the rulemaking to OAL on November 14, 2023. For the status of the Commission's submittal to OAL for review, and the end of the five-day written submittal period, please consult OAL's website at http://www.oal.ca.gov under the heading "Emergency Regulations."
The Rivers:
As of Thursday, only the Smith and main stem Eel rivers are open to fishing. All other North Coast rivers subjected to low-flow fishing closures, including the South Fork Eel, Mad, Redwood Creek and Van Duzen are closed to angling. The Department of Fish and Game will make the information available to the public by a telephone recorded message updated, as necessary, no later than 1 p.m. each Monday, Wednesday and Friday as to whether any stream will be closed to fishing. The rivers can be opened up at any time. The low flow closure hotline for North Coast rivers is 707-822-3164. NOTE: The main stem Eel from the South Fork to Cape Horn Dam, the Mad River from the mouth to 200 yards upstream and the Mattole River will be closed until January 1, 2024.
Main Eel
The main Eel is open as of Thursday and running around 665 cfs. If predictions are correct, it could close prior to the weekend. The closure will likely be short-lived as the rain coming Tuesday should open it back up to fishing. The Eel River is closed to salmon fishing except catch and release by federally recognized tribes. Minimum Flow: 350 cubic feet per second at the gauging station near Scotia.
Smith
Running at 1,935 cfs as of Thursday, the Smith is open and should remain that way through the weekend. Quite a bit of rain is coming early next week, which will the keep the flows high and could bring in some early steelhead. The Smith is closed to all salmon fishing except for 1 Chinook Salmon and no more than 5 wild Chinook Salmon over 22 inches per year by federally recognized tribes while fishing under existing inland sport fishing regulations. Minimum flow: 600 cfs at the Jedediah Smith State Park gauging station.
Chetco
"Salmon fishing was fair on the Chetco last week, with low, clear water and bobbers only, followed by high, dirty conditions to begin the all-tackle portion of the season," said Andy Martin of Wild Rivers Fishing. "Lots of salmon are spread throughout the river, which dropped back into shape Tuesday evening. Conditions should be good through the rest of the week."
Elk/Sixes
The Elk was fishable Monday, with a handful of boats, and in peak season form Tuesday with a couple dozen boats and a fish per rod or better reports Martin. "The Sixes dropped into shape this week as well."
Kenny Priest operates Fishing the North Coast, a fishing guide service out of Humboldt specializing in salmon and steelhead. Find it on Facebook, Instagram, YouTube and www.fishingthenorthcoast.com. For up-to-date fishing reports and North Coast river information, email kenny@fishingthenorthcoast.com.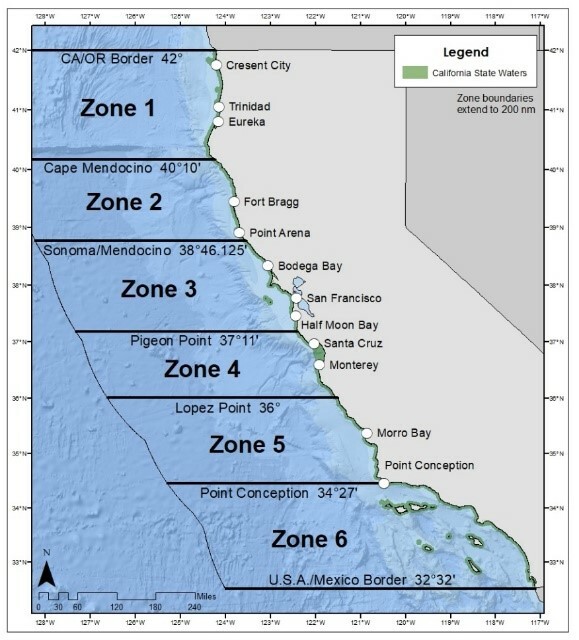 MyOutdoorBuddy.com © 2023. All Rights Reserved.
Website Hosting and Design provided by TECK.net