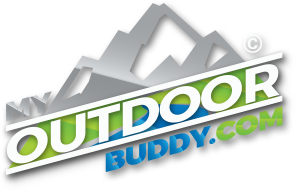 Your Source for Outdoor Adventure
Northern California and Southern Oregon
Boats Travel Far and Wide to Find Tuna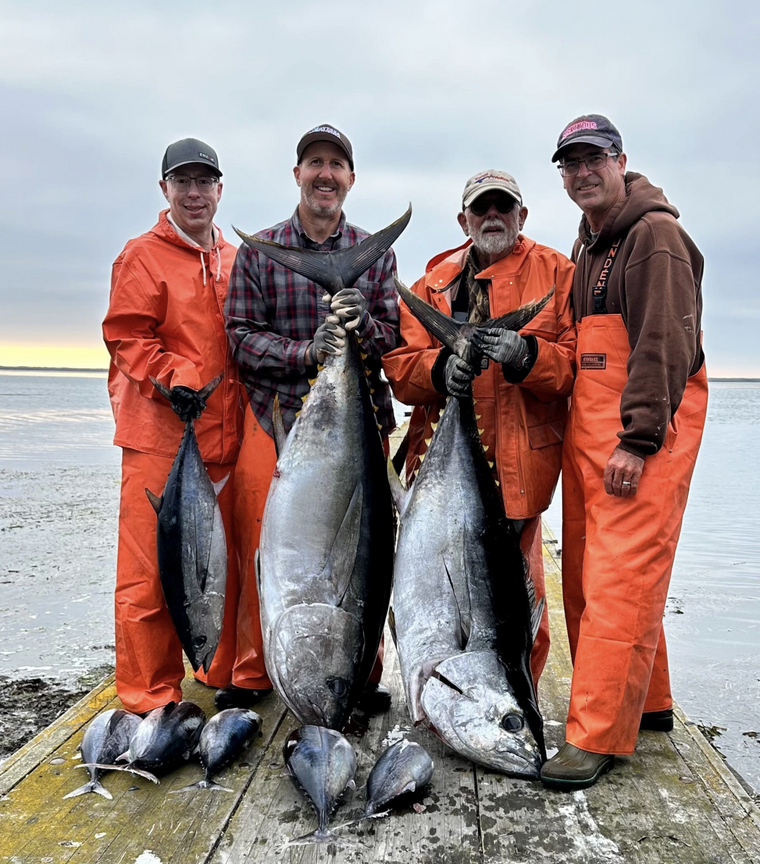 While fishing nearly 80 miles off of Eureka, these anglers were lucky enough to land a couple Bigeye tuna along with a handful of albacore. They were fishing with Jeff Stackhouse Guide Service. Photo courtesy of Jeff Stackhouse Guide Service
Ocean conditions over the weekend were about perfect, and there was tuna to be had. But you had to travel a long way, which plenty of boats did. Starting in Fort Bragg, where boats had the shortest run at 35 miles, at least one charter boat loaded the boat both Friday and Saturday. They were big fish too, with a few over 30 pounds. Plenty of private boats got in on the bite as well. One boat put in 30 jumbos with a solid 25-pound average. Shelter Cove boats did well too, with scores ranging from 10 to 40 per boat roughly 40 miles out. Closer to home, the Eureka boats put on some serious miles starting Friday. Jeff Stackhouse of Stackhouse Guide Service made an 80-mile run straight west and was rewarded with a couple nice Bigeye tuna and a handful of albacore. Saturday saw a couple of other charters venture far offshore. Eric Justesen of 707 Sportfishing ran slightly southwest 75 miles and boated 38 tuna and a Dorado. Marc Schmidt of Coastline Charters headed south to the Gorda Valley where he put 37 albacore in the box. Up in Trinidad, one private boat ran 70 plus miles offshore and boated 42 albacore. The common theme here is no distance is too far for these tuna guys. Looking ahead, the weekend is shaping up to be another chance at tuna. Hopefully the water will be a little closer.
Weekend marine forecast
Stronger northerlies are in the forecast at least through Friday. Saturday winds will decrease and come out of the south. Out 10 to 60 nautical miles north of the cape, Friday's forecast is calling for north winds 10 to 20 knots and waves out of the northwest 9 feet at nine seconds. Saturday is calling for southeast winds 5 to 10 knots and waves northwest 5 feet at 10 seconds and northwest 4 feet at 20 seconds. Sunday, winds will be out of the north 5 to15 knots and waves northwest 5 feet at nine seconds and northwest 5 feet at 15 seconds. These conditions can and will change by the weekend. For an up-to-date weather forecast, visit www.weather.gov/eureka or www.windy.com. You can also call the National Weather Service at 443-7062 or the office on Woodley Island at 443-6484.
Trinidad boat launch info
The Trinidad boat launch is open Thursday through Monday, opening at 7 a.m. If no boats or mooring customers show up, the crew typically will stick around until at least 10 a.m. The bait shop will be open in the morning, call for information between 7 a.m. and 9 a.m. The launch may close for the season as early as Sept 13.
Low Flow River Closures begin Sept. 1
North Coast rivers that are regulated by low flow closures, including the Eel, Mad, Mattole, Redwood Creek, Smith and Van Duzen begin angling restrictions on Sept. 1 and will run through April 30 2024. As a reminder, in 2022, a low-flow angling restriction was added to the section of the Eel River from the mouth to Fulmor Road (Eel estuary) at its paved junction with the south bank of the Eel River. When a low-flow closure occurs in this section of the Eel, it will be closed to hook-and-line fishing; other legal fishing methods are allowed during this timeframe. The Department of Fish and Game will make the information available to the public by a telephone recorded message updated, as necessary, no later than 1 p.m. each Monday, Wednesday and Friday as to whether any stream will be closed to fishing. The rivers can be opened up at any time. The low flow closure hotline for North Coast rivers is 707-822-3164. NOTE: The main stem Eel from the South Fork to Cape Horn Dam and the Mattole River will be closed until January 1, 2024.
Areas subject to low flow closures:
Mad River: The main stem Mad River from the Hammond Trail Railroad Trestle to Cowan Creek. Minimum flow: 200 cfs at the gauging station at the Highway 299 bridge. The Mad River from the mouth to 200 yards upstream is closed until Jan. 1, 2024.
The main stem Eel River: New in 2022, a low-flow angling restriction was added to the section of the Eel River from the mouth to Fulmor Road at its paved junction with the south bank of the Eel River, Sept. 1 through April 30. The stream flow will be monitored as follows: Minimum Flow: 350 cubic feet per second at the gauging station near Scotia.
The South Fork of the Eel River: The South Fork of the Eel River downstream from Rattlesnake Creek and the Middle Fork Eel River downstream from the Bar Creek. Minimum flow: 340 cfs at the gauging station at Miranda.
Van Duzen River: The main stem Van Duzen River from its junction with the Eel River to the end of Golden Gate Drive near Bridgeville (approximately 4,000 feet upstream of Little Golden Gate Bridge. Minimum flow: 150 cfs at the gauging station near Grizzly Creek Redwoods State Park.
Mattole River: The main stem of the Mattole River from the mouth to Honeydew Creek. Minimum flow: 320 cfs at the gauging station at Petrolia.
Redwood Creek: The main stem of Redwood Creek from the mouth to its confluence with Bond Creek. Minimum flow: 300 cfs at the gauging station near the Highway 101 bridge.
Smith River: The main stem Smith River from the mouth of Rowdy Creek to its confluence with Patrick Creek; the South Fork Smith River from the mouth upstream approximately 1000 ft to the County Road (George Tyron) bridge and Craigs Creek to its confluence with Jones Creek; and the North Fork Smith River from the mouth to its confluence with Stony Creek. Minimum flow: 600 cfs at the Jedediah Smith State Park gauging station.
Saturday is statewide Free Fishing Day
The last chance of the year to fish for free arrives over the Labor Day holiday weekend. Free Fishing Day is offered by the California Department of Fish and Wildlife Saturday, Sept. 2. While no fishing license is required on free fishing days, all fishing regulations, such as bag and size limits, gear restrictions, report card requirements, fishing hours and stream closures remain in effect. Every angler must have an appropriate report card if they are fishing for steelhead or sturgeon anywhere in the state or salmon in the Smith and Klamath-Trinity river systems. For more information, visit wildlife.ca.gov/Licensing/Fishing/Free-Fishing-Days
The oceans:
Eureka
"The good news is the warm water has slid in 8 or 9 miles, but the bad news is it may blow back out with the wind we're seeing now," said Tim Klassen of Reel Steel Sport Fishing. "The weather doesn't look great for tuna for the next 10 days, but there are conflicting reports. It doesn't help us that the water is sitting over 50 miles offshore. There are opportunities and locations for rockfish at 50 fathoms, but again, you need some good weather days to pull it off."
Shelter Cove
Rock fishing was good this week around the Hat reports Jake Mitchell of Sea Hawk Sport Fishing. "We were able to make it offshore towards the Knoll a couple days for tuna and it was decent, with scores ranging from 10-40 fish per boat," said Mitchell. "The warm water was roughly 40 miles offshore. The weather looks pretty sloppy during the week, but looks like we may get a decent day or two this weekend to head offshore for tuna again."
Crescent City
The tuna water was a little out of reach over the weekend reports Chris Hegnes of Crescent City's Englund Marine. "It moved offshore and was out at least 60 miles, and I don't think anyone went out," said Hegnes. "The California halibut has been pretty slow along South Beach, with anglers catching just a few trolling anchovies."
Brookings
Halibut fishing is peaking out of Brookings, with charter boats getting two-fish limits when weather conditions are calm reports Andy Martin of Brookings Fishing Charters. "The best fishing has been in 180-250 feet of water, with tuna bellies, herring and squid working best," said Martin. "The season runs through Oct. 31. Lingcod and rockfish action also has been solid out of Brookings. California halibut are being caught close to the beach at the mouth of the Chetco."
The Rivers:
Lower Klamath
The river has been muddy and blown out since early last week due to thunderstorms upriver near Happy Camp. It may be some time before it clears enough to be fishable. Just prior to the blowout, fall kings and steelhead were entering the river in good numbers. The daily bag limit is two hatchery steelhead or hatchery trout per day on both the Klamath and Trinity rivers, with a possession limit of four. Anglers must have a Steelhead Fishing Report and Restoration Card in their possession while fishing for steelhead trout in anadromous waters. For more information, visit nrm.dfg.ca.gov/FileHandler.ashx?DocumentID=202686&inline
Lower Rogue/Chetco
According to Martin, the Rogue Bay is fishing well, with lots of fish and lots of boats trying to catch them. "Catch rates have been good for the past several weeks. Big numbers of kings are stacked up in the bay because of hot weather inland. A few salmon also are being caught in the Chetco estuary."
Kenny Priest operates Fishing the North Coast, a fishing guide service out of Humboldt specializing in salmon and steelhead. Find it on Facebook, Instagram, YouTube and www.fishingthenorthcoast.com. For up-to-date fishing reports and North Coast river information, email kenny@fishingthenorthcoast.com.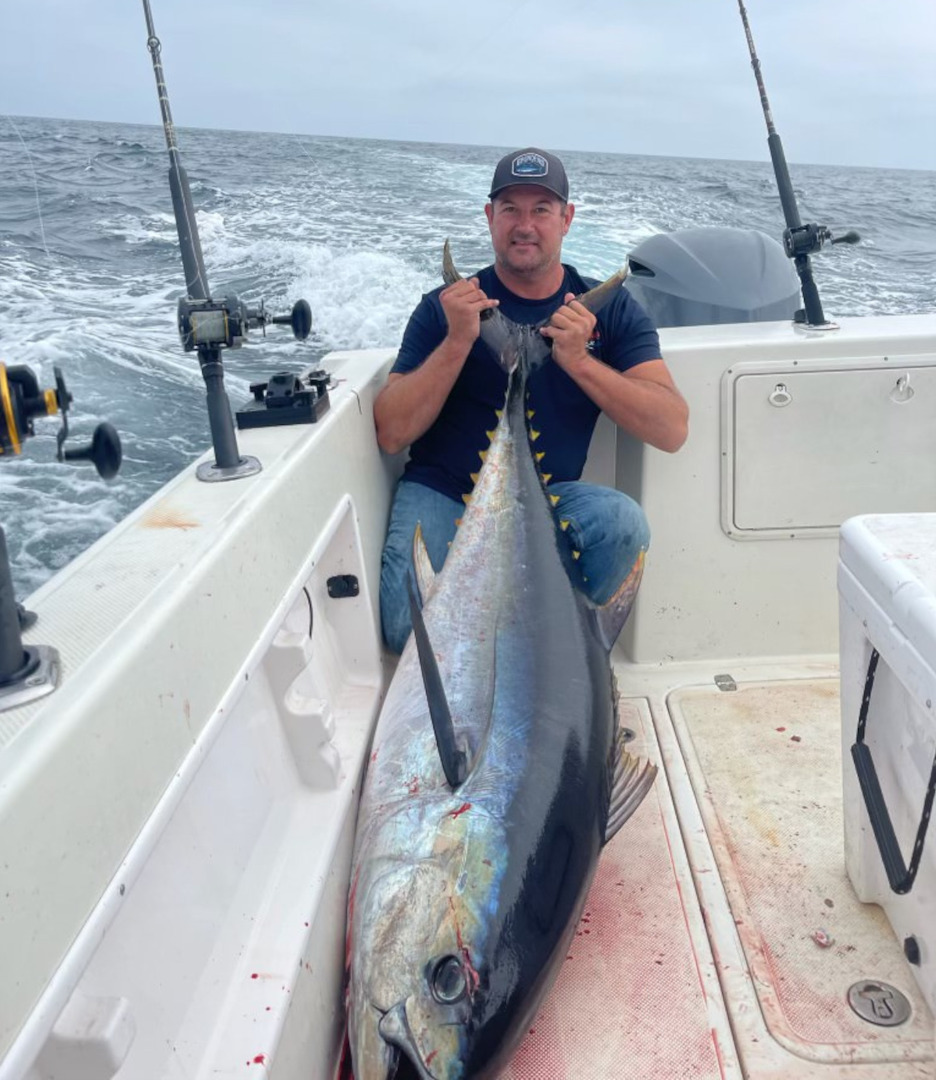 Alderpoint resident Jesse Mela landed this monster Bigeye tuna on a solo mission out of Shelter Cove last Saturday. Photo courtesy of Jesse Mela
MyOutdoorBuddy.com © 2023. All Rights Reserved.
Website Hosting and Design provided by TECK.net