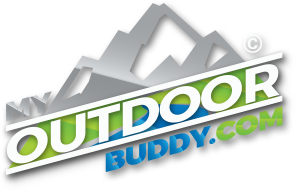 Your Source for Outdoor Adventure
Northern California and Southern Oregon
Lots of snow means lots of water!!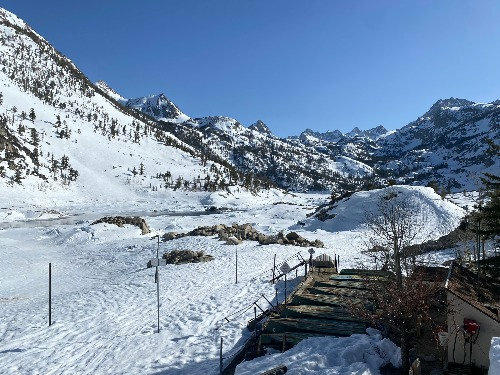 by Lake Sabrina Boat Landing Staff
5-11-2023
Website

Conditions Report
Upper Bishop Creek Canyon
5-11-23
Well folks, it's been a tough few week as progress was painfully slow and conditions above 9000ft just weren't changing all that much so there wasn't much to say. The roads to Sabrina and South Lake are still closed and both lakes are frozen. But here is what we know as of today…..
Hwy 168 W. is still closed at the winter closure. Snow removal efforts were suspended for a while due to avalanche concerns. They picked things back up yesterday and as of today they're almost as far as the North Lake turnoff. However, there is no projected date for the road to open. Once Caltrans is done with their section, then Inyo County Road Dept comes in to clear the last section.
South Lake Road is currently closed at the winter closure as well. Inyo County Road Dept is on the project but man, they've had a rough go as their blower broke down and replacement parts of been delayed. Our friends at the county have done about everything they can do, even trying to clear the entire stretch with two loaders, but it's very slow going without that blower. Fingers crossed the folks can get at least as far as the summer homes pretty soon so visitors have more access on that side of the world and we can start getting the Parchers Resort cabins ready to rock. Plus the county needs to clear that stretch of Lake Sabrina Road before we can do much up there – I don't envy the road crew – they're boxing with one hand behind their back right now.
Now – the million-dollar question – when are we opening???? WE DON'T KNOW JUST YET
For the café, it's going to be at least 2-3 weeks for pie & coffee, and longer for breakfast & lunch.
For the boats? When the lake is free of ice and the level is high enough to reach the main lake – which is totally dependent on the weather at this point. Pontoons? Mid-June is my best guess but believe me, you'll know when they're out.
Fishing? Not much in the way of information since the lake is frozen and not many people are bothering to hike up to ice-fish. Intake 2 is the only accessible body of water at the moment…well, I guess the creek counts but she's running a bit high on both sides at the moment. The DFW does have fish and is ready to hit the high country when they can get to us.
Big heat wave coming this weekend – our expectation is that conditions will really start to move and shake so by the weekend of the 20th, we hope to have some better information. At present Lake Sabrina has a little open water in the front lake by the dam…but it's hard to get to and shallow. No reports of ice thickness since the report of 6 feet of ice back on April 29th.
As you might imagine, the inability to access the boat landing or cabins on the other side of the canyon have us unable to provide a solid opening date. We can't get the place ready to go until we can get there.
Opening Dates*
Lake Sabrina Store/Café TBD (Maybe Memorial for Pie)
Lake Sabrina Boat Rentals TBD (probably early-June)
South Lake Rentals TBD (probably mid-June)
Parchers Resort Cabins TBD
Parchers Resort Store/Office TBD
* All dates are subject to change based on God (the weather) & Government (the road). We'll handle the Gumption.
More next week!!!!
Sierrally,
Jared, Seth and the rest of the Sabrina Crew
MyOutdoorBuddy.com © 2023. All Rights Reserved.
Website Hosting and Design provided by TECK.net