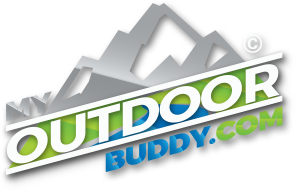 Your Source for Outdoor Adventure
Northern California and Southern Oregon
Coastal Rivers Lacking Steelhead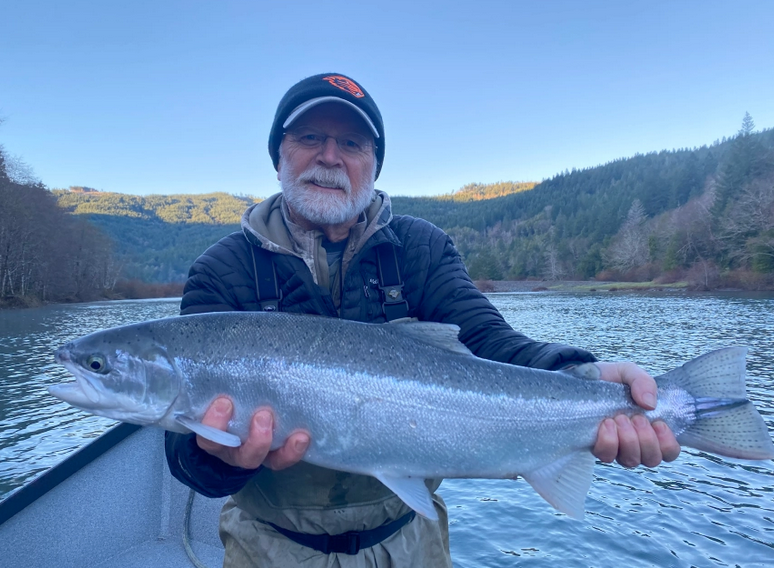 Jeff Bounsall of Napa holds a steelhead caught Jan. 23 on the Chetco River while fishing with guide Andy Martin of Wild Rivers Fishing.
Photo Credit: Photo courtesy of Wild Rivers Fishing
After the January storms provided the flushing and scouring our coastal rivers desperately needed, anglers were thinking and hoping the winter steelhead would be there waiting once the rivers turned fishable. So far, that hasn't necessarily been the case. Up and down the coast, well known steelhead rivers are not seeing the numbers we're accustomed to. This same scenario happened a couple years ago, but the fish finally showed up. And that will more than likely be the case again this year. But with the calendar now saying February, it's getting a little more nerve racking. While no one knows for sure the reason for the tardiness, there are some theories out there. The one I've been hearing the most is the storms that hit the coast made conditions tough for steelhead to navigate across the bars where the rivers meet the ocean. I'm hoping this is the case and we'll start seeing better numbers soon. The storms headed our way this weekend will certainly help.
Weather outlook
According to James White of Eureka's National Weather Service office, a small low pressure system will arrive on Thursday bringing the coast some light rain. "We could see anywhere from a half to 1 inch of rain coast-wide overnight Thursday into Friday," said White. "This system will also bring with it some high winds up to 45 miles per hour along the coast. Showers will linger into the weekend before a more focused system arrives Sunday and into Monday. We could see another half to 1 inch of rain. Next week we'll see a parade of weak systems with a couple of wet days followed by a couple dry days."
CDFW to host virtual ocean salmon meeting
The California Department of Fish and Wildlife (CDFW) invites the public to attend its annual Salmon Information Meeting via webinar on Wednesday, March 1, 2023, from 10 a.m. to 4 p.m. The meeting will feature the outlook for this year's sport and commercial ocean salmon fisheries, in addition to a review of last year's salmon fisheries and spawning escapement.
Following the informational presentations, stakeholders are encouraged to offer testimony and recommendations for the 2023 fishing season regulations in advance of the upcoming Pacific Fishery Management Council (PFMC) meetings in March and April.
The 2023 Salmon Information Meeting marks the beginning of a two-month long public process used to develop annual sport and commercial ocean salmon fishing regulations. The process involves collaborative negotiations between West Coast states, federal agencies, tribal co-managers, and stakeholders interested in salmon fishery management and conservation.
Public input will help California representatives develop a range of recommended season alternatives at the March 5-10 PFMC meeting in Seattle. Final season recommendations will be adopted at the PFMC's April 1-7 meeting in Foster City, CA. For more information, visit wildlife.ca.gov/News/cdfw-to-host-virtual-public-meeting-on-ocean-salmon-fisheries3
Eel River steelhead returns
According to Andrew Anderson, an Aquatic Biologist with PG&E, during the week of January 23 – January 29, 15 steelhead (female 3, male 10, unknown 2) were observed moving through the Van Arsdale Fish Station (VAFS). This brings the season total for adult upstream migrating steelhead to 35 (female 11, male 19, unknown 5).
A final round of salmon carcass surveys was conducted in the Tomki Creek watershed during the week of January 23 – 29; no live fish or redds were observed. For more information, visit www.eelriver.org/the-eel-river/fish-count.
The Rivers:
All North Coast rivers subjected to low-flow fishing closures including the Mad, Smith, main stem Eel, South Fork Eel, Redwood Creek and Van Duzen were open to fishing. The Department of Fish and Wildlife will make the information available to the public no later than 1 p.m. each Monday, Wednesday and Friday as to whether any river will be closed to fishing. The rivers can be opened at any time. The low-flow closure hotline for North Coast rivers is (707) 822-3164. For more information, visit fishingthenorthcoast.com/2021/09/22/2021-2022-low-flow-information-for-north-coast-rivers/
Mad
The Mad dipped below 525 cubic feet per second, but the water color remains dirty. On top of that, there aren't many fish around. The hatchery has seen very few returning compared to years past. Hopefully the rain coming later in the week will bring in some fish. Flows are predicted to peak at 3,500 cfs (10.5 feet) early Monday morning.
Eel River (main stem)
The main stem is dropping, albeit very slowly. Flows on Thursday were around 5,900 cfs, which is still big. The color is starting to come around, but it doesn't look like it will drop into fishable shape prior to the rain coming later this week. It will probably need another week or so of dry weather before conditions are really good. Predicted to go above 16,000 cfs Monday morning.
South Fork Eel
The South Fork provided the best conditions over the weekend and drew quite the crowd. The fishing wasn't red hot by any means. Most boats got the opportunity at a fish but there were plenty of skunks. Conditions will continue to improve throughout the week and into Saturday before it blows out again. Predicted to peak at over 4,300 cfs Monday morning. Depending on how much rain we get next week, it could be off color for at least a few days.
Van Duzen
The Van Duzen was down to 415 cfs as of Thursday and is in great shape. There were plenty of bank anglers taking advantage over the weekend but reports were hard to come by. It's predicted to jump up to over 1,400 cfs by Friday night followed by a bigger rise on Sunday. Will likely be off color most of next week.
Smith River
The Smith was sitting at just above 7 feet at the Jed Smith gauge as of Thursday. The river is low, clear and snaggy. The boat pressure has been light as most guides have moved to other rivers. It's forecast to receive a much-needed bump in flows beginning Sunday morning. Predicted to peak at 11.5 feet Sunday night, which should make conditions excellent next week. Hopefully this will bring in some fresh fish.

Chetco
Steelhead fishing has been slow on the Chetco, lower Rogue, Elk and Sixes rivers reports Andy Martin of Wild Rivers Fishing. "The action appeared to be picking up early last week, with guides getting four or more a day," said Martin "By the weekend, catch rates were a fish for every three or four boats. Rain this week may boost the action. The Chetco still has green water in the deeper slots, but is dropping and clearing quickly."
Brookings ocean update
According to Martin, crabbing has been very good out of Brookings, but will slow after the Feb. 4 commercial opener. "Fishing has been slow for lingcod and rockfish because of rough weather. A few surfperch are being caught from Brookings-area beaches."
Kenny Priest operates Fishing the North Coast, a fishing guide service out of Humboldt specializing in salmon and steelhead. Find it on Facebook, Instagram, YouTube and www.fishingthenorthcoast.com. For up-to-date fishing reports and North Coast river information, email kenny@fishingthenorthcoast.com.
MyOutdoorBuddy.com © 2023. All Rights Reserved.
Website Hosting and Design provided by TECK.net