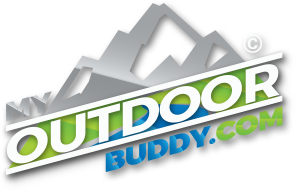 Your Source for Outdoor Adventure
Northern California and Southern Oregon
Storms Put Steelhead Fishing on Hold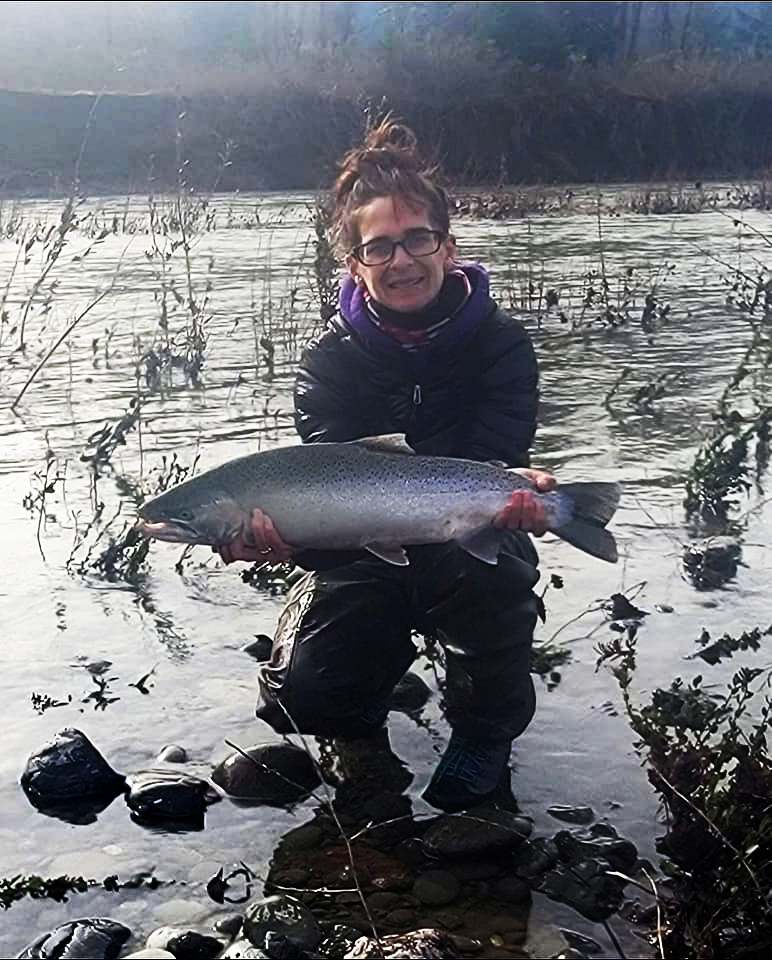 Arcata resident Kaleena Hiller landed a nice hatchery steelhead on Sunday, Jan.2 while fishing the Mad River.
Photo Credit: Photo courtesy of Kaleena Hiller
Just as most of the coastal rivers were dropping into fishable shape, another fierce round of storms took aim at the North Coast. For now, the winter steelhead season has come to a screeching halt. From the Chetco south to the top of the Eel River system, you'll be hard-pressed to find any water that resembles anything close to green. And the dirty water conditions may be with us for a quite a few days as rain is in the forecast throughout the week. The Smith should be in good shape by the end of the weekend and the Chetco shouldn't be too far behind it. For the other coastal rivers that aren't so quick to clear — it could be a week or more before they resemble anything close to green.

Weather outlook
Rain is in the forecast for the rest of the week, but it looks like the heavier amounts are behind us. According to Ed Swafford of Eureka's National Weather Service office, the Smith basin could see 1.5 to 2 inches through the end of the day Wednesday. "The Eel basin will see ¾ to 1 inch, with higher amounts falling in the mountains," said Swafford. "Light rain is forecast for Thursday, but not enough to keep the river levels going up. The next system will arrive overnight Thursday and stick around through early Saturday morning. The Smith basin could see up to 1.5 inches and the Eel could see up to ¾. After this system, it looks like we'll be dry through at least next Tuesday."
Recreational Bag Limits Reduced For Some Rockfish Species In 2022
The California Department of Fish and Wildlife (CDFW) announces multiple changes to recreational rockfish sub-bag limits which are expected to take effect Jan. 6, 2022. The emergency regulations were adopted by the California Fish and Game Commission in mid-December to align with federal regulations for these species. Changes to the sub-bag limits within the 10-fish daily Rockfish, Cabezon, Greenling (RCG) complex bag and possession limit include:
A decrease to the statewide sub-bag limit for vermilion rockfish (Sebastes miniatus) from five fish to four fish
A new statewide sub-bag limit for quillback rockfish (S. maliger) of one fish
A new statewide sub-bag limit for copper rockfish (S. caurinus) of one fish
The RCG complex has a daily 10-fish bag and possession aggregate limit, meaning that each angler's catch can be composed of any combination of rockfish, cabezon or greenling, as long as total catch remains at or below 10 fish. Sub-bag limits within the RCG bag limit are implemented when harvest guidelines cannot accommodate the 10-fish bag limit being composed of a single species.
"New stock assessments conducted in 2021 for quillback and copper rockfish suggest severe population declines for these two species. Also, unsustainably high catches of vermilion rockfish have occurred each year since 2015," said CDFW Environmental Program Manager Marci Yaremko. "For these reasons, new federal regulations were needed to implement reduced sport bag limits for these three species in 2022."
Despite these changes, there are still numerous opportunities to catch other groundfish species with healthy populations in 2022 when seasons are open.
The Rivers:
Mad
Running at 8,250 cubic feet per second as of Thursday afternoon. Predicted for additional bump in flows Friday before it begins to drop Saturday. Will need at least a week to turn green.
Main stem Eel
After peaking at 43,270 cfs on Tuesday, the main stem was down to 27,350 cfs on the Scotia gauge Thursday. Predicted to drop until Friday when the next round of water pushes through the lower end. Will need a solid 10 days of dry weather before it's fishable. Will start to fish well at 3,500 cfs.
South Fork Eel
The South Fork peaked at 12,200 cfs Tuesday and will be on the drop through Thursday. After a small rise on Friday, will be dropping through the weekend. Could be fishable mid next week if the weather remains dry.
Van Duzen
The Duzen peaked at 8,600 cfs Tuesday morning and will be dropping through Friday morning. Another small rise is predicted for Friday and will then drop through the weekend. Could fish late next week depending on snowmelt.
Smith River
The Smith blew out Monday and, with more rain in the forecast, it won't be down to a safe, driftable height until Sunday. Plunkers were back on the water by Thursday, but flows will continue to fluctuate through Saturday. River conditions should be excellent by Monday. Prior to blowing out, boat pressure was light and a few steelhead were being caught daily.
Chetco River
The Chetco dropped into perfect shape for plunkers last Monday and was in good shape for drift boats by Wednesday reports Andy Martin of Wild Rivers Fishing. He said, "From Thursday through the weekend, guides were averaging three to six steelhead a day, with a good mix of hatchery fish on the lower river. Steelhead were spread out from the South Fork to Social Security Bar. Flows dropped to 2,000 cfs Sunday evening, but blew out big time on Monday and likely will be too high all week."
Rogue/Elk/Sixes
The Lower Rogue winter steelhead season busted open last week, with a handful of guides anchoring and running MagLip plugs getting half a dozen or more fish a day, according to
Martin
. "All of the fish have been wild so far, but native steelhead can be kept on the Rogue effective Jan. 1. Hatchery steelhead will begin arriving in good numbers in January. The Rogue is now blown out, but could drop back into shape as water is held back at Applegate and Lost Creek dams. Steelhead fishing was slow overall on the Elk and Sixes. Fishing has been good on the South Umpqua and the Coos and Millicoma systems."
MyOutdoorBuddy.com © 2022. All Rights Reserved.
Website Hosting and Design provided by TECK.net