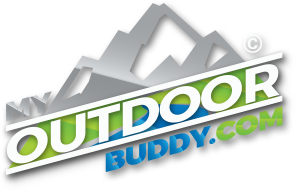 Your Source for Outdoor Adventure
Northern California and Southern Oregon
Baum Lake Trout lures, bait or fly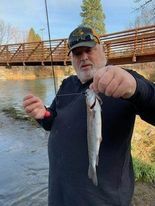 Baum Lake is a perfect location to spend a fall day. Gorgeous fall foliage, a beautiful lake teeming with often willing trout and bald eagles and osprey soaring overhead. Being adjacent to Crystal Lake Fish Hatchery this year-round fishery, a dammed section of Hat Creek in eastern Shasta County seldom disappoints. And even if the bite happens to be off the surroundings more than compensate.
Today I fished with Frank Galusha, past publisher of Myoutdoorbuddy.com for a few hours and we managed a few planter-sized rainbows on spinners, meal worms and wooly buggers. A lot of trout were jumping and dimpling the lake's surface but we could only entice a few takers. A modest day by Baum standards but a good day for many other places.
This is a great lake for personal pontoon rafts and kayaks (no gas motors allowed) and many fly anglers were enjoying the day using a variety of small nymphs with success as well as stripping leech and wooly bugger patterns for more aggressive fish. While most anglers employ fly fishing techniques, using spinning gear with spinners and small spoons aa well as a variety of baits can be equally effective.
While we caught only planter sized trout today this lake can produce some big trout, both rainbows and browns inhabit the lake. It seems that every year someone boosts of trout over eight pounds and it takes a good three or four pound trout to have someone take notice. I have personally seen a verified ten pound rainbow taken from this lake.
This lake will continue to fish well into the winter and is often the beneficiary of unannounced bonus plants of trout sometimes including large brood stock.
Gary Heffley has been a valued contributor to MyOutdoorBuddy for over 10 years serving as manager, sales representative and reporter for much of Northern California. He is an avid outdoorsman and loves to fish and write about his adventures. He has a long history in the Sporting Goods field and uses that extensive experience to impart his wisdom in his writing.
MyOutdoorBuddy.com © 2022. All Rights Reserved.
Website Hosting and Design provided by TECK.net