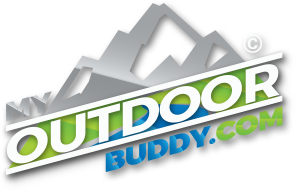 Your Source for Outdoor Adventure
Northern California and Southern Oregon
Lake Sabrina Fishing Report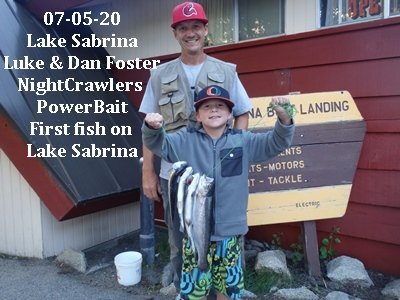 Photo Credit: Courtesy of Lake Sabrina Staff
by Lake Sabrina Boat Landing Staff
7-7-2020
Website

FACE MASKS REQUIRED PER INYO COUNTY
Don't forget a jacket
It was an absolutely gorgeous weekend with loads of people up at the Lake enjoying the scenery and making memories. After the winds of last Sunday, Monday came in with thunderboomers and rain/snow in the back country. After that system blew out, nothing but beautiful weather.
Fishing is getting a bit tougher, but we are still seeing fish heading to the frying pan. Emma & Tyler made it a team effort using NightCrawlers to help provide dinner for their families. Jay and Michelle Wallace used PowerEggs to catch an awesome meal. Luke made Dad Dan proud catching not only his first fish at Lake Sabrina, but he caught all four fish using NightCrawlers and PowerBait for dinner.
The best guess we have for you catching a fish is Patience, NightCrawlers, PowerBait and Salmon Eggs. Try and get as much sanitizer off your hands and the same with the skeeter juice. Red and Gold Thomas Buoyants along with KastMasters have gotten some good hits. We had some biologists here a couple of weeks ago studying the Owens Valley Sucker fish. They will stun an area and count the number of fish – well, in the process of stunning the sucker fish, they stunned a 7-pound Brown and it was only in about 10' of water. They're out there, folks!!!
As we're sure most of you had heard, Department of Fish and WildLife stockings have been stopped in our area do to a bacterial outbreak, but have no fear – the businesses of Bishop Creek Canyon are paying to bring in fish from Idaho.
Bacterial Outbreak at CDFW Hatcheries Temporarily Halts Fish Stocking in Southern California
June 30, 2020by kmacinty, posted in Environmental Science, Fishing (Sport), hatcheries, Water
Several California Department of Fish and Wildlife (CDFW) fish hatchery facilities in the eastern Sierra and Southern California are battling a bacterial outbreak that has the potential to cause significant losses to both hatchery and wild fish populations. The outbreak of Lactococcus garvieae, which is similar to streptococcus, has sickened fish at the Mojave River Hatchery and has been detected at both the Black Rock and Fish Springs hatcheries. A fourth CDFW hatchery, Hot Creek Hatchery, was originally quarantined out of caution but after testing that quarantine has been lifted.
The L. garvieae bacteria has never before been detected in fish in California, and CDFW must take a cautious and careful approach to ensure the protection of the state's aquatic resources – fish, hatchery facilities and public waterways. Infected fish can show symptoms including bulging eyes, lethargic or erratic swimming and increased mortality, or be asymptomatic and show no signs of infection depending on a several factors including water temperature and stress. Fish-to-human transmission of this bacteria is rare and unlikely.
Fish stocking has temporarily been halted from the facilities under quarantine while hatchery staff treats the affected fish populations and takes measures to prevent the spread of the bacteria. Planting will resume when fish have recovered from the infections and fisheries pathologists have determined that they no longer present a threat to the environment.
"This is a challenge for our hatcheries because the bacteria is previously unknown in California, and we don't have tried-and-true strategies on hand to combat it," said Jay Rowan, environmental program manager for CDFW's Hatchery Production and Fish Health Laboratory. "A successful approach will have three components: Treating the affected fish at the hatcheries, finding the origin of the outbreak, and planning ahead to contain and prevent the spread of the bacteria. Unfortunately, we may be in for a long battle here, which means there will not be a lot of fish plants in the near future in the eastern Sierra and Southern California. I wish we could give anglers a target date for when we think we can start planting again, but it's all up to how fast and how well the fish respond to the treatments."
Current treatment measures at the hatcheries include keeping water temperatures low, reducing stress due to crowding and other factors, introducing antibiotic medication and special diet in order to assist the fish in fighting off the infection. CDFW is currently investigating the source of the outbreak. For additional information, please see CDFW's frequently asked questions about the L. garvieae outbreak.
Southern California Edison starts the Lake Sabrina spillway project. SCE will modify Lake Sabrina's Dam and Access Trail this year to maintain the Auxiliary Spillway. This project supports the continued safe operation of the dam by repairing the Auxiliary Spillway. Note: Helicopters will carry material periodically and the Access Trail will be closed intermittently during construction for safety purposes. Typical workdays are Monday thru Friday – sunrise to sunset. This project will begin on 7/6/2020 and be completed on 11/30/2020.
The Wild Flowers are starting to make an appearance. Purple Penstomens and pretty yellow flowers (not sure what the name is) along with Yellow Columbines are dotting the hillsides and there's some really pretty purple flowers down by BitterBrush campground.
So we're hearing of a BIG bear down in the Sabrina Campground that may have some cubs. We had two trashcans knocked over Sunday early morning, so we're thinking that's what may have visited us. The Eagles at the back of the Lake are sure putting on a lot of shows for the visitors at the back of the Lake. Slow down coming up the hill or going down and especially thru Aspendell and around Intake 2 as the deer are starting to migrate.
The skeeters have made an appearance, so don't forget the bug juice, but remember to try and keep it, your sunscreen and any other Foo-Foo juices off your hands – fish don't like the taste or smell. It's also Pine Pollen time – so if you're susceptible to hay fever allergies – don't forget the meds.
Fishing etiquette is once again becoming a bit of a problem at the Lake and we don't like problems. If you come upon someone fishing, please don't fish right next to them – take a bit of hike farther down and don't cast over into their spot. Same at the Inlet, there are so many areas to fish on this Lake go find another 'soon to be' favorite spot. Also, DON'T FORGET TO PICK-UP YOUR TRASH!!!
Here is the forecast for the week from www.weather.gov (enter Aspendell, CA in the search and scroll down to see the temps).
This Afternoon
Sunny, with a high near 79. West southwest wind 6 to 14 mph, with gusts as high as 21 mph.
Tonight
Clear, with a low around 46. Southwest wind around 18 mph, with gusts as high as 29 mph.
Tuesday
Sunny, with a high near 75. South southwest wind 8 to 15 mph, with gusts as high as 23 mph.
Tuesday Night
Clear, with a low around 46. West wind 7 to 16 mph, with gusts as high as 24 mph.
Wednesday
Sunny, with a high near 76. West wind 6 to 8 mph becoming south in the morning.
Wednesday Night
Clear, with a low around 46.
Thursday
Sunny, with a high near 78.
Thursday Night
Mostly clear, with a low around 48.
Friday
Sunny, with a high near 79.
Friday Night
Mostly clear, with a low around 51.
Saturday
Sunny, with a high near 79.
Saturday Night
Mostly clear, with a low around 53.
Sunday
Sunny, with a high near 80.
Juanita, Rick, Patti, Dwayne, Bob, Jesse and Matt
MyOutdoorBuddy.com © 2021. All Rights Reserved.
Website Hosting and Design provided by TECK.net