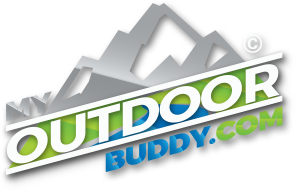 Your Source for Outdoor Adventure
Northern California and Southern Oregon
Closing Kilarc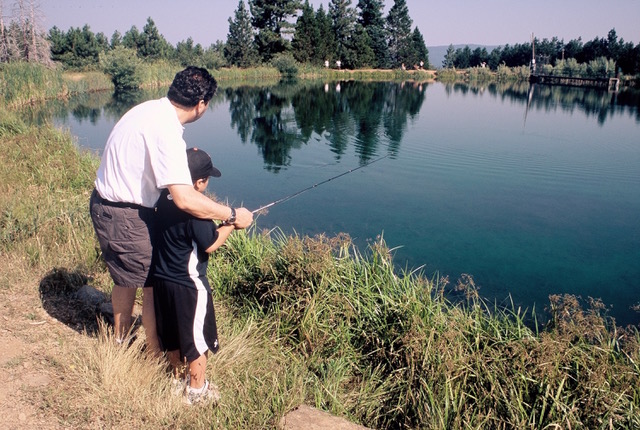 With his dad's help a young man catches his first fish.
Photo Credit: Courtesy of John Higley
In the past I've written often about the trout fishing at Kilarc Reservoir, a 4.5-acre impoundment near Whitmore in Shasta County. A hydroelectric facility operated by Pacific Gas and Electric (PG&E), Kilarc first came into being in 1904. For much of the time between then and now Kilarc has provided a place for generations of local families and visitors to fish and picnic in a truly picturesque setting.
Speaking for my family, I can tell you that Kilarc is where my daughter Meredith learned to fish at age five, and several decades later it is a favorite spot for her four kids, all of whom learned how to fish where she did so many years ago. It would be interesting to know how many other kids got their start in outdoor pursuits at Kilarc. My bet would be thousands.
When compared with other small waters in this part of the state Kilarc is, by far, the easiest to access. The trek from the parking lot to the water, only about a hundred yards, is level and easy on the legs of young and old. I've seen wheelchair bound anglers catching trout there, and Russ Herrick, a Vietnam purple heart vet, and one of my regular companions, can get around nicely at Kilarc despite his disabilities.
Sadly, this winter PG&E plans to drain Kilarc and close the place permanently to the public. Apparently, the utility company has long wanted to divest itself of small hydroelectric power plants like Kilarc, and now the company feels it has a reason to do so. During the severe weather last winter, the canal that supplies water to the reservoir was damaged. Kilarc, already too warm to plant with trout, was closed in July. After repairs were made it would be reopened, or so we were told.
Long story short, the repairs were unsuccessful, and this statement from PG&E tells the tale. After initial efforts to repair the canal were not successful, PG&E has determined that the repair costs outweigh the economic benefit of generation at the Kilarc powerhouse.
One wonders about such a decision. Kilarc was a producer of clean power, something that would seem to be important in this day and age, and a valuable source of water for fire suppression, also extremely important as it is surrounded by timberland. The reservoir also provided water for a wide variety of wildlife including bald eagles, ospreys, deer, waterfowl and other assorted critters. And, as we've seen, Kilarc is a perfect place for people of all ages to spend time outdoors fishing and picnicking in a great setting.
True, the canal repair costs would be high, but, in my humble opinion, keeping Kilarc viable for the long haul is worth the expense. For generations Kilarc has been beneficial to many people throughout the region—most of whom are PG&E customers. Saving Kilarc for generations to come would be a public relations win for PG&E, now vilified for its role in causing the Camp Fire which nearly destroyed the town of Paradise in 2018, and was the worst wildfire in the state's history.
Author and writer John Higley is a resident of Palo Cedro. His articles have appeared in outdoor magazines hundreds of times and his columns appear regularly at myoutdoorbuddy.com. Higley has written four books the latest of which "Successful Turkey Hunting" was published in May, 2014 by Skyhorse Publishing in New York. This hard cover, full color book is being sold at Barnes and Noble Book Stores and on Amazon. Autographed copies are available direct from John Higley, P.O. Box 120, Palo Cedro, CA 96073. Cost is $28.95 postage paid.
MyOutdoorBuddy.com © 2023. All Rights Reserved.
Website Hosting and Design provided by TECK.net