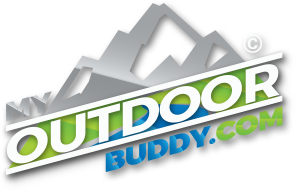 Your Source for Outdoor Adventure
Northern California and Southern Oregon
High Water Ushers in Chetco Steelhead; Lower Rogue Metal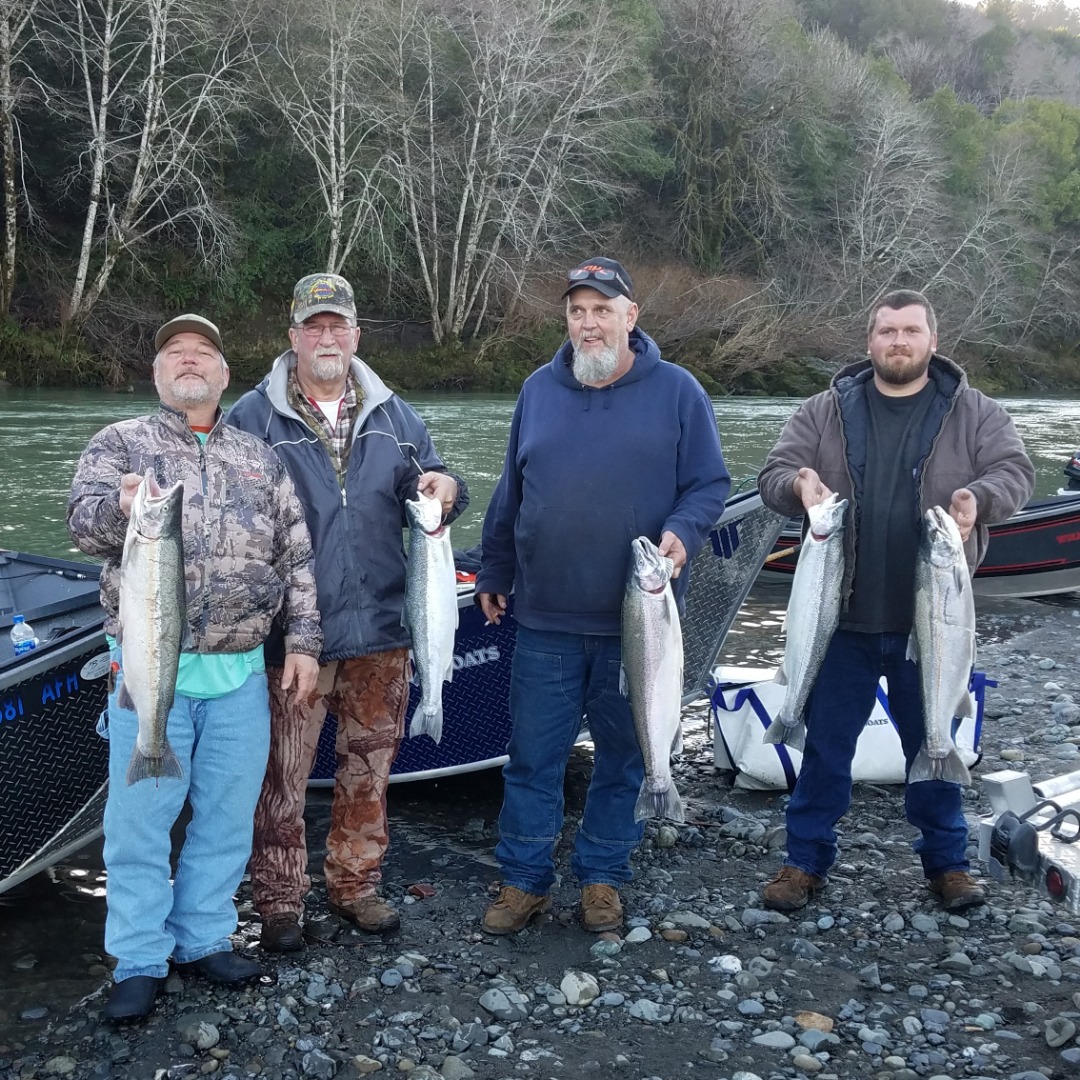 The steelhead fishing for Blair's Guide Service on Friday was very good for those side-drifting on the Chetco River. Four anglers each had one fish, with one angler tagging out with 2 steelhead.
Photo Credit: Larry Ellis
Exactly one week ago, long-awaited rains raised the Chetco River to 30,500 cubic feet per second and after it started dropping to an Irish green hue on Wednesday and Thursday, anglers plunking Spin-N-Glos from the bank started walloping chrome-bright metalhead.
Winter steelhead were being caught on Wednesday when the river was in the 6,000-plus cubic feet per second arena, but the fishing really took off on Thursday when the river was dropping between 5,000 and 4,300 cfs.
On both days, places like Social Security Bar were lined up so thick with plunking sticks, it looked as if the Chetco was growing porcupine quills.
On Thursday, I managed to squeeze in between two angling sticks and casted my Spin-N-Glo setup onto a current seam. Now I had been there when three fish were landed, and two of them were brought to the bank by the past president of the Oregon South Coast Fisherman, Leonard Krug.
In short order, Krug tagged out with two beautiful hatchery steelhead. In fact, most of the fish that were caught that day were hatchery (adipose fin-clipped) steelhead weighing between 8 and 13 pounds.
About an hour before I arrived at the river, one gentleman also tagged out, hooking 3 steelhead and releasing one.
But, there were at least 4 more fish that were brought to the bank that day that I knew of. The fishing was so spectacular that anglers were donating their fish to the Chetco River Broodstock Steelhead program.
One of ODFW's finest informed me that he had over 200 fish in the tanks to be transported up to Elk River Hatchery in Port Orford. I have no doubts now that Elk River Hatchery will meet its production goal this season.
So here are a few helpful hints in putting more steelhead on your tag when plunking.
First of all, remember that during high water events on the Chetco, such as when the river is between 6,000 and 7,000 cfs, anglers only need to cast out between 6 and 8 feet to be in the hot zone, the hot zone being a current seam close to the bank. There are always exceptions to this rule as it is not carved in stone.
The main thing to remember during this particular high-water event, is that the river has often carved out new beginnings for steelhead anglers. The higher that the Chetco blows out causes steep, deep banks, and it is in these deeper banks where steelhead will like to travel.
Secondly, as the Chetco lowers even more toward 4,500 cfs, the banks will often be less steep and deep, and you may need to cast out further than usual to find a current seam.
If an angler insists on plunking on the Chetco when the river drops between 2,500 and 3,000 cfs, they will often need to cast their Spin-N-Glos even further out to find a good current seam. This particular scenario can often be invaluable because it puts the winged bobber setups at a more clandestine location, further away from the bank and further away from people.
But the main techniques that will be utilized this weekend and into next week are side-drifting from a boat or drift-fishing from the bank.
Drift-fishing allows the bank angler to cover more water that contains current seams, and side-drifting is probably now the most popular angling technique that is utilized from a moving drift boat. Just remember when the guide at the oars shouts out, 'Hit 'em', he or she is referring to the mini bites that the oarsman can only see on the tips of your rods. When hearing the 'hit 'em' reference, immediately set the hook. About 1 out of 5 of these subtle bites will be a fish.
So hold your rods nice and steady, like a statue, so that the oarsman can see all these subtle bites that you might not be able to feel at all. In fact, you probably won't be able to feel most of them.
The Lower Rogue Stands True to Form
Anglers fishing with good guides on the lower Rogue River from the Old Mill Site downriver to Clay Banks have been limiting out at times on some beautiful chrome-bright steelhead.
"Today was the first day on the water," said guide John Anderson of Memory Makers Rogue River Guide Service in Gold Beach on Thursday. "We had to take debris off the lines about every 15 minutes, but I ended up landing 6 steelhead – 6 bites; 6 fish. And all of our fish were caught on 3.5-inch Mag Lips."
Anderson said that he did run the old-style Wiggle Warts with no take downs. On went a Coppermine-colored 3.5-inch Mag Lip, and down a rod tip, followed by more rod tips savagely meeting the water when he put on additional Coppermine-colored 3.5-inch Mag Lips.
"I probably should have ran all Coppermine Mag Lips from the get-go," noted Anderson. "I probably would have just killed 'em".
But 6 bites with 6 steelhead to the boat is an unprecedented event in and of itself. John says that the color "Show Stopper" seems to be a great clear-water, low-water color, but the Coppermine-colored Mag Lip is really running the show.
Anderson says that his success has led him to having more booked steelhead trips, and even fairly-booked fall Chinook salmon trips later in the year.
If you are having trouble locating the Coppermine-colored 3.0 and 3.5-inch Mag Lips at your local tackle shop, by all means order them directly from Yakimabait.com. Martin Thurber of Willakenzie Guide Service even has had success on spring Chinook while fishing a Coppermine-colored Mag Lip. That's how good this color really is.
In the meantime, please look up my former articles on myoutdoorbuddy.com. They give plenty of helpful hints on rigging up for these lower Rogue steelhead. Click on the link above, or just type in (in your web browser) myoutdoorbuddy.com. This will take you to a vertical menu. Drag your mouse across the "fishing" heading and a drop-down box of fishing columnists will appear.
Now click on Larry Ellis and several years of articles will explain to you everything you wanted to know about steelhead and salmon fishing, including how to fish the lower Rogue for winter steelhead, how to tie up your own steelhead yarn balls and how to rig up a spinnerbait rig properly for trolling the Rogue bay for Chinook salmon. And much, much more!
Tight lines!
Larry Ellis, author, writer, columnist and photographer has had a 50-year passion for fishing in California and Oregon's saltwater and freshwater venues. He is a well-known writer for Oregon, Washington and California Fishing and Hunting News, Northwest Sportsman, California Sportsman and Pacific Coast Sportfishing. He currently writes monthly for Salmon Trout Steelheader Magazine, and is the author of two books, "Plug Fishing for Salmon" and "Buoy 10, the World's Largest Salmon Run."  Both books can be bought from Amato Publications (amatobooks.com), Amazon and eBay. Ellis particularly loves living in his hometown of Brookings, Oregon - The heart of salmon country and gateway to fishing paradise.
MyOutdoorBuddy.com © 2023. All Rights Reserved.
Website Hosting and Design provided by TECK.net