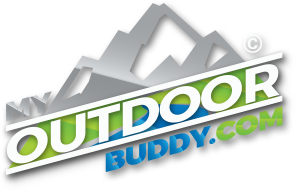 Your Source for Outdoor Adventure
Northern California and Southern Oregon
First Robust Steelhead Runs Enter the Chetco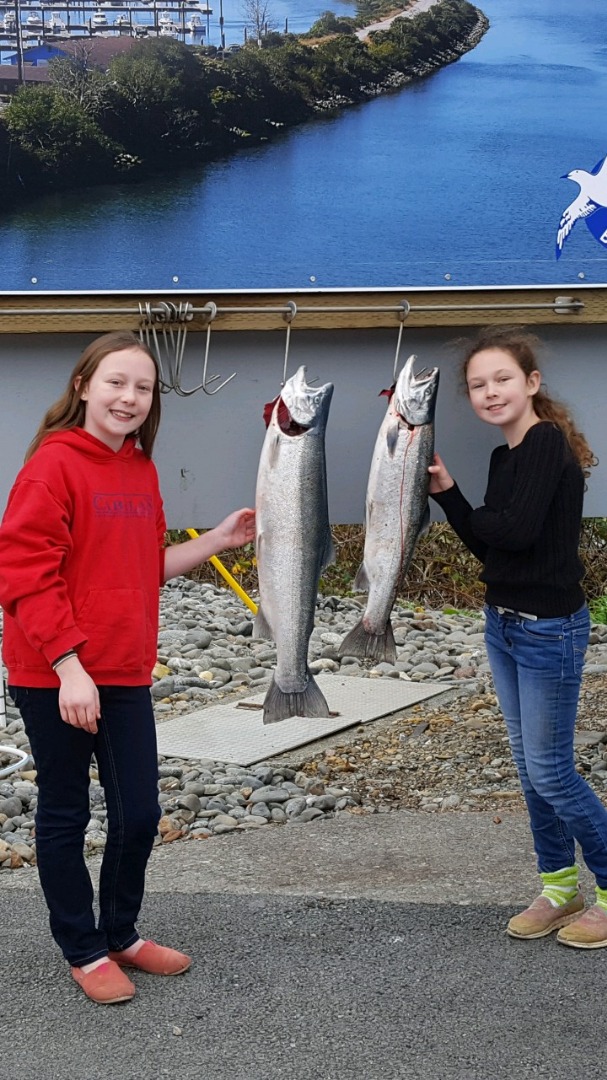 Sunnie and Aspen Dimmick caught two of the first hatchery steelhead of the season on the Chetco River last week when they plunked a Tequila Sunrise Spin-N-Glo from the bank.
Photo Credit: Jason Dimmick
This is the message I've been waiting for all of December. I received a text message last week from a friend who sent me photographs of some nice, corpulent winter steelhead caught on the Chetco River.
Jason Dimmick, who took his two daughters, Sunnie and Aspen, fishing, were plunking Tequila Sunrise Spin-N-Glos at a lower river hole. The river was dropping sharply from 9,000 cubic feet per second, a perfect plunking scenario for those biting metalheads.
It was on December 25, and the river was just a hair over 4,000 cfs and exhibited a velvety-green hue. While Jason did not hook up, both of his two daughters did – each with a hatchery winter steelhead over 10 pounds.
You couldn't have asked for a better Christmas present!
"The girls both grabbed their rods and set their hooks on their own," boasted the proud father. "And they knew exactly how to fight them."
Their 2-part secret was using a Sherbet-colored Spin-N-Glo. Sherbet is Yakima Bait's official designation of that particular winged bobber color. It also goes by the unofficial nom de plume called Tequila Sunrise, dubbed so by the Brookings locals.
The second part of the secret was knowing where to cast.
"I told the girls that there was a current seam not very far away from the bank," noted Dimmick. "It was a very faint current seam, but a current seam nonetheless. It was only about 8 feet from the bank, so I told them to cast about 2 feet past the current seam and their Spin-N-Glos would fall right near the actual seam."
And fall they did – right in the insides of two steelheads mouths.
Because, as stated in last week's article The Plunker's Bible, in my ON OREGON WATER'S column, the biggest mistake anglers make while plunking is casting out too far. Those steelhead, athletic as they may be, will be avoiding the rougher, more turbulent water in the middle of the river, and instead will be taking the easy way out by going up the softer river water on the sides.
Another plunker caught a nice, hefty hatchery chrome-bright steelhead the day after Christmas while plunking a Spin-N-Glo in the Chetco.
Now, these are nice hefty specimens of steelhead averaging anywhere from 8 to 13 pounds, which speaks volumes for the Chetco Winter Steelhead Broodstock Program, which are all angler-donated fish.
The theory behind angler-donated fish is that biting steelhead will tend to produce offspring which will tend to bite with tenacity. Practically all of Oregon's broodstock winter steelhead programs are now produced by angler-caught donated steelhead.
I've lived on the coast for 38 years now, and I am a big subscriber to this "biters beget biters" theory.
Now that the Chetco flows have dropped, and are predicted to be averaging between 2,000 and 2,500 cfs through Monday, anglers will be giving up their traditional plunking routine and will be opting for side-drifting and pulling plugs from a boat, or drift-fishing from the bank.
But as soon as the river rises to over 4,000 cfs, the plunkers will be waiting on baited breath for the river to drop and clear to a velvety-green texture, where Spin-N-Glos will again be the lure that rules the waters.
Remember that this is the first real beginning of the steelhead run. The run doesn't usually start peaking until the middle of January, but from what I can see, great expectations can be anticipated for 3-salt steelhead, the kind that average between 8 and 12 pounds.
4-salters, the big buoys that average up toward 20 pounds, won't be entering the river until the end of December or the beginning of January.
So, until the river rises again, be prepared to pull plugs or side-drift from a drift boat, or drift-fish your favorite colored Corky from the bank.
The Rogue River's winter steelhead usually mirror the run of the Chetco. But, until the first of the year, all wild steelhead must be released and only hatchery metalheads are allowed to be retained on the Rogue River.
After the first of January, all south coast rivers will have a limit of one wild steelhead per day, with only three allowed for the entire season.
When January rolls around, the Rogue will be incrementally producing more and more hatchery winter steelhead.
Fishing the Rogue River for steelhead is usually confined to the holes from the old mill site down to Claybanks. This is an anchor up situation, where the boaters will be placing the drift boat or jet boat about 45 feet above the hot zones were steelhead are anticipated to run through.
This is very much like springer fishing. The boater places his boat in 4- to 5-foot depths around willows and inside turns and has his clients run Brad's Wigglers, Wee Wigglers or 3.5-inch Mag Lips. You place your rod in its perspective rod holder and watch the rod top like a hawk.
And boy, do these fish ever strike with zeal.
When your rod tip meets the water with line screaming off the reel, you know that you've hooked up with a Rogue River metalhead.
Then, and only then, carefully slide your rod out of its holder and prepare to do battle with a mighty Rogue River winter steelhead. No need to set the hook on these puppies. Often, the boater will have to break away from anchor in order to fight these frisky fighters.
But, until a steelhead bends your rod double, have a great transition of the end of 2018 to the beginning of January of 2019. Have a Happy New Year, and may all your bites turn into savagely-fighting acrobatic battles on Oregon waters.
Tight lines!
Larry Ellis, author, writer, columnist and photographer has had a 50-year passion for fishing in California and Oregon's saltwater and freshwater venues. He is a well-known writer for Oregon, Washington and California Fishing and Hunting News, Northwest Sportsman, California Sportsman and Pacific Coast Sportfishing. He currently writes monthly for Salmon Trout Steelheader Magazine, and is the author of two books, "Plug Fishing for Salmon" and "Buoy 10, the World's Largest Salmon Run."  Both books can be bought from Amato Publications (amatobooks.com), Amazon and eBay. Ellis particularly loves living in his hometown of Brookings, Oregon - The heart of salmon country and gateway to fishing paradise.
MyOutdoorBuddy.com © 2023. All Rights Reserved.
Website Hosting and Design provided by TECK.net