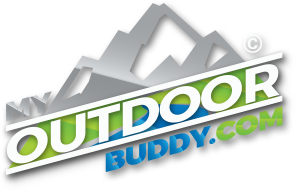 Your Source for Outdoor Adventure
Northern California and Southern Oregon
Dutch Oven Pot Roast on the Grille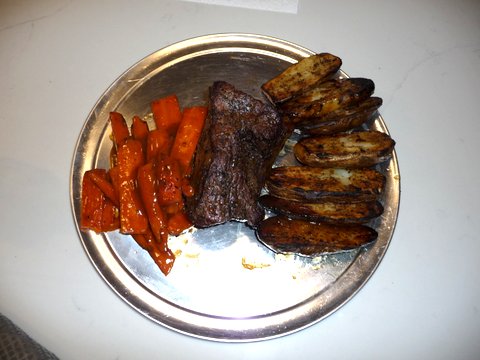 Nothing says love'n like a camp roast from a dutch oven!
Photo Credit: Don Stec
I have always enjoyed cooking for myself and friends while on hunting, fishing and camping trips. I discovered in my early teens that most males at that age do not have the slightest idea of how to camp cook. I did not realize that Beef jerky, dried fruits, nuts and potato chips to most young outdoorsmen seemed the natural makings of a campground meal. Including a candy bar for dessert of course. I did not learn this until several of my teenage friends decided to draw straws for "camp cook". The winner assured us he camped all the time with his parents and knew how to prepare a special camp meal.
He was very secretive as we started on our day hiking trip; with assurance of a surprise meal.
Imagine our surprise when he pulled out of his knapsack, cold cans of pork & beans for each of us and handed us a spoon. "Cold beans," someone said. Another asked. "How do we open the cans?" Well that was the surprise he had for us.
He proudly took from his pocket; the surprise. It was a military P-38 surplus can opener that was slightly longer than an inch. This is something every outdoorsman should have he said, as he proudly displayed his treasure.
In those days Cowboy movies were all the rage and Cowboys ate their beans cold while on the trail. Cowboys always carried a hunting knife on their belt to open the cans. It's understandable my friend would think this was the ultimate camp tool and beans the ultimate camp food. We were disappointed as he tried to explain. This is how his father and he always ate while outdoors.
It is said food always tastes better when cooked outdoors. There is some truth to this. But, I think food is much better when it is not typical camp food. The aroma wafting through fresh air causes curiosity among fellow campers nearby to inquire. "What is that delicious smell?"
Dutch ovens have long been a favorite for people that live in the outdoors. Creating a hot meal that is more than camp food lifts the spirit after a long day outside. Especially if someone is cold from head to toe.
Dutch ovens used in a campfire must be maintained as the oven is placed into the hot coals. The coals must be replaced several times over several hours to make a cheap cut of meat into a tender, delicious meal. If not watched over carefully; the food will dry out or not be fully cooked.
I cook on my outside grille all year round. Especially when we have hot summer days, the air conditioner is struggling, and the wife does not want to heat up the house with hours of oven use.
Pot roast has many names in different areas of the country. Some other common names are beef round roast or Boston butt. Basically, it is a tough, lean piece of meat that requires cooking long and slow.
The recipe below is for a pot roast. It is a beautiful piece of meat and this one cost me less than four dollars a pound. At four pounds it fed two people three meals with some left over for a snack.
Cooking Directions:
Beef pot roast, 3-5 lbs
¼ Cup olive oil or similar oil
2-3 TBS. Soy sauce
Montreal steak seasoning
1. Rub meat with oil & Soy sauce, mixed together
2. Sprinkle roast liberally with Montreal seasoning
3. Marinade overnight or at least several hours, in a covered bowl or a plastic bag
4. Turn the gas grille on high, place the Dutch oven to one side of the grille to preheat it. On the other side of the grille, brown the meat well - on all sides, including the ends.
5. Use an oven thermometer placed well above the direct flame (grille temp gauges are often inaccurate) and set the heat to 325. Place the meat into the Dutch oven and cook until tender, for 3-4 hours, depending on size. If you use an instant-read thermometer also, 160 degrees will fully cook the roast, but 190 degrees internal temperature will make it even tenderer.
Tips: Outdoor cooking temperatures can vary quickly, especially on a windy day. Once the inside grille temperature is established, note the different reading on the grille lid temperature gauge. Write this down and monitor the lid gauge to keep the internal temp steady.
After one hour check the roast. It should have the drippings bubbling slowly at the bottom. About ½" deep. If there is not enough liquid, add some beef broth. When finished, the roast will be fork tender. Follow the pictures for more information on cooking the vegetables.
Oh yes, my friend was right about the P-38. I got one and carried it on my keychain for over 30 years. I discovered it also pried opened paint cans, and could be used as a screwdriver too. A civilian version is available at sporting goods stores, called a P-51 and is slightly larger.
Coachmaster Collision repair* is a past recipient of the District Attorneys award for honesty and integrity in business.

Don Stec is the founder of Coachmaster, a full service collision repair facility also specializing in the collision repair of RV's. Now retired, Don is proud to have sold the business to long time manager Allan Gordon. Call Coachmaster at 530-243-1310, or stop by at 6851 Eastside Road. Redding, CA.
MyOutdoorBuddy.com © 2023. All Rights Reserved.
Website Hosting and Design provided by TECK.net