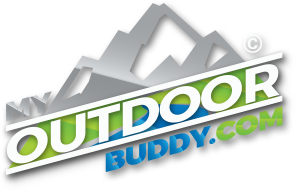 Your Source for Outdoor Adventure
Northern California and Southern Oregon
Free Kids Fishing Day Added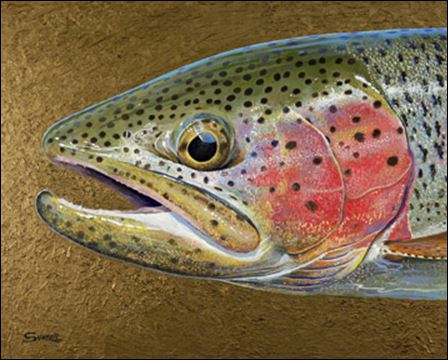 Wild Rainbow Rainbow Trout ~ artist Bern Sundell
An additional Free Kids Fishing Event date and location has been announced by the CDFW. On April 14 a free kids fishing event will be held at the Bass Pond located in the BLM Paynes Creek Recreational Area located just north of Red Bluff. Access to the event is off Jelly's Ferry Road to Bend Ferry Rd. Continue on Bend Ferry Rd to the parking area where a registration tent with loaner rods and free bait will be located. The pond opens to fishing from 9:00 am to 3:00 pm. You can't miss the parking lot as it is right off the side, left of the road and very easy to find. Driving out Bend Ferry Road, the road does live up to its name as it "bends" through the area on the way to the park. There are a number of 90 degree turns, but just keep going, it really is not that far, Like I said, you can't miss it.
Trout will be planted at the Bass Pond, which has great shoreline access for anglers, in advance of the event. There are also some bluegill and bass that inhabit the pond year round. These events are a great way to introduce youth to the sport of fishing. There will be volunteers (which are always welcome and more are needed) to assist youngsters and families who are new to the sport. Loaner rod and reel outfits with free bait and hooks are available on a first come, first served basis and if there is ever a wait to borrow an outfit, the wait is usually very short. Fishing is limited to youth under the age of 16 who are able to hold a rod or assist an adult in holding and reeling in a fish. Adults are not allowed to fish for the child and authorities will be on hand to make sure everyone complies. Remember the event is for kids. Click to view flyer.
The BLM Paynes Creek Recreational area has miles of trails to explore and is popular with horseback riders. There are also acres of wetlands and native riparian grasslands and access to the Sacramento River where anglers can test there skills against native trout and steelhead as well as salmon during the open river season. There is also another fishing pond not far from the Bass Pond. Coyote Pond also holds bluegill and bass and may have some trout placed in it as well if there are excess trout from the planting of the Bass Pond for the event.
Bring a chair, camera, a hat and some snacks, and of course fishing tackle if you have it, and enjoy the day. Also don't forget an ice chest to take those tasty trout home in. I hope to see you there.
Gary Heffley has been a valued contributor to MyOutdoorBuddy for over 10 years serving as manager, sales representative and reporter for much of Northern California. He is an avid outdoorsman and loves to fish and write about his adventures. He has a long history in the Sporting Goods field and uses that extensive experience to impart his wisdom in his writing.
MyOutdoorBuddy.com © 2021. All Rights Reserved.
Website Hosting and Design provided by TECK.net