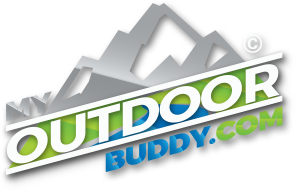 Your Source for Outdoor Adventure
Northern California and Southern Oregon
Let's check out Lake Almanor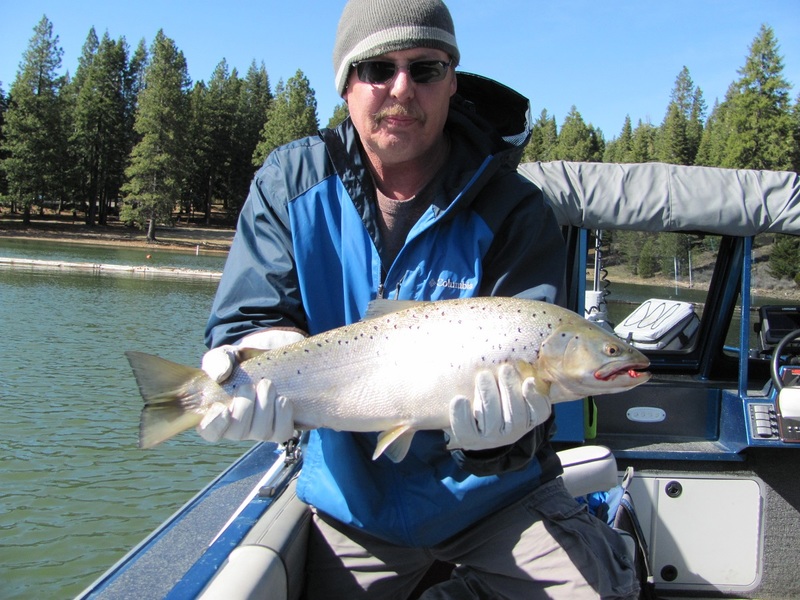 by Phil "Flip" Akers
1-19-2018
Website

There's a tiny locomotive on display in Chester, CA that was used from 1910 until 1914 to construct a dam on the North Fork Feather River, creating what is now Lake Almanor. Also used in the construction of nearby Butt Valley dam, the locomotive – named the Eureka – was of the "Dinky" line of engines and it spent over eight decades submerged in the depths of the lake before being recovered, restored, and brought to Chester for all to admire. A historical marker by E Clampus Vitus (Clampers) is mounted next to "Dinky."
Long before the dinky locomotive, before the white man arrived to this area, this reach of NF Feather was native home of the Mountain Maidu. They called it "Nakam Koyo" meaning Big Meadows. Akin to parts of nearby Lassen Volcanic National Park and the Caribou Wilderness, spring water percolates up through this porous landscape. This was an incredibly lush, fertile area. The southernmost hurrah of the Cascade Range – with fish, game, and everything they needed to survive – the Maidu didn't travel far.
The primary purpose of constructing a dam and creating Lake Almanor was for hydroelectric generation by Great Western Power, now owned by PG&E. Lake Almanor was named after the three daughters of Guy C. Earl, Vice President of Great Western Power, and also project manager of the construction phase. The names of his daughters: Alice, Martha, and Eleanor.
The initial stage of the dam was completed in 1914, the same year Mt. Lassen started to erupt. The most violent event during this four-year string of dramatic Lassen Peak belches occurred in 1915, blasting an ash cloud over 30,000 feet into the air, and ash fell to the east as far as Winnemucca, NV.
So, Lake Almanor's first few years must have looked like a scene from the dinosaur era, and the rising lake level eventually submerged the Maidu villages. The lake also claimed the old town of Prattville...oh, there's a Clamper marker here too...dusted with silt, along with what remains of the underwater ghost town. In 1973, true to their interest in recognizing history and the absurd, some Clampers went out in a boat and sunk the Prattville plaque.
Because Lake Almanor is such a large and relatively shallow body of water, water temperatures are often high, and this is considered a warmwater fishery as much as it is a coldwater fishery. There's a healthy population of both game and non-game fish. Catfish and carp thrive in both numbers and size, and each year bowfishing events are held here to thin the herd.
It's the underwater springs that helps keep the coldwater species going. Once late summer months roll around, and surface temperatures soar, locating and fishing around the underwater springs can be productive. One popular underwater spring is quite large, nearly eight feet in diameter. Trout will "chill" out here and at other smaller springs, venturing out to feed. They are very businesslike while out "on the chew."
There's also a seasonal "Hex Hatch." The Hexagenia is a very large mayfly…hatching in the lake-bottom mud and making its way to the surface, where they float for a short period until their wings dry, enabling them to take flight. Many get eaten by fish and birds on this make-or-break journey from lake-bottom to sky. This unique trout gorging event occurs yearly and attracts fly anglers from great distances. Weather determines when and for how long the hex hatch will last, but generally speaking, it begins in late June and lasts only a few weeks, and only in the late evening. This is all about timing. You need to monitor current conditions and try to hit the lake when the surface temperature reaches 65°F. These are large mayfly emergers, so fish accordingly. It's a serious kick in the pants!
The hex hatch can be fun, but let's not kid ourselves. The trout here are such rotund pigs because of their constant diet of Japaneese wakasagi. This oily, high-octane baitfish is more commonly referred to as pond smelt and was imported to California from Japan in the 1950's. Pond smelt wasn't introduced to Lake Almanor, however, until the 1980's after the State had already tried sustaining Mysida crustaceans and threadfin shad. Sculpin can also be found but their numbers pale in comparison to the pond smelt.
So, from a tactical standpoint, you can fish with confidence when imitating pond smelt. The first step; tribal knowledge says you should hunt more than you fish. Just like many other lakes, regardless of the type of baitfish, start by locating the birds. Almanor is home to some very large birds…huge "lake turkeys" that also chow on pond smelt. Being attacked by fish from beneath, and by birds from above, baitfish hardly stand a chance. Gulls are an indication of possible baitfish on the surface. This is a great sign! Drift or use your trolling motor to remain close to the activity. Casting or jigging works, or a combination of both.
Thinking about going?
The shoreline is ~4,500 feet/elevation. It's an expansive lake – 52 miles of shoreline – so have a plan. Large portions of the lake are only ~30 feet deep…its maximum depth is only 90 feet at the deepest river channel. Depending on when you visit, this is possibly the warmest water you'll ever find yourself fishing for trout.
You can learn all the historical and quirky tidbits contained in this small piece by going local and sharing a drink with the interesting patrons at the Double "G" Iron Horse Saloon in Westwood – pooch is allowed inside and they have the best Bloody Mary's I've ever been served. You can also catch up on things at the Kopper Kettle Café in Chester, where the biscuits are over 4" tall.
If you want further help locating and imitating the hexagenia or wakasagi, or just want to be put on some fish, there are some awesome local guides: almanorfishingassociation.com/lake_guides.html
There are too many camping and lodging options to mention, there's even dispersed camping in nearby Lassen National Forest. You can find no fee, public launch ramps at Canyon Dam (3-lane, dock, restrooms, picnic area, fire pits) and at the USFS campground at Almanor West Shore (restrooms, public beach, launch ramp with dock – closed in winter). There are additional private launching options at many campgrounds and lodging areas.
Waiting for the evening hex hatch? Got some down time? Explore the Hamilton Branch cave. Hamilton Branch is an inlet creek to Lake Almanor. The cave is a couple of miles upstream from the lake at Hamilton Branch Bridge where Highway 147 crosses the creek. Park at the bridge and follow the path. There are two levels. Take a light.
Now go!
When conversations of freshwater trout "personal best" arise, Lake Almanor is mentioned perhaps more than any other California lake. If you haven't fished here, you should. It's one of those northern California destinations every outdoor enthusiast should experience. Yeah, the water is shallow (a thermal curtain was proposed but never came to fruition), vacation homes line the shoreline, and chances are you won't be alone, but this is one incredible fishery. So if you're wondering where to fish next, check out Lake Almanor.
Phil "Flip" Akers is a diverse angler and outdoor adventurer. For over 25 years he has backpacked, packed llamas and fly-fished the Sierra Nevada and Cascade mountain ranges, venturing into the farthest reaches of our wilderness areas pursuing quality trout and solitude. He enjoys sharing his experiences including tips, techniques, outdoor cooking recipes, and storytelling. He is certified in wilderness first response and rescue including swiftwater rescue, technical rope and technical animal rescue. Phil Akers can be reached at akers209@att.net.
MyOutdoorBuddy.com © 2021. All Rights Reserved.
Website Hosting and Design provided by TECK.net