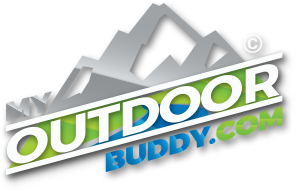 Your Source for Outdoor Adventure
Northern California and Southern Oregon
FANGS! Snakes In The Hood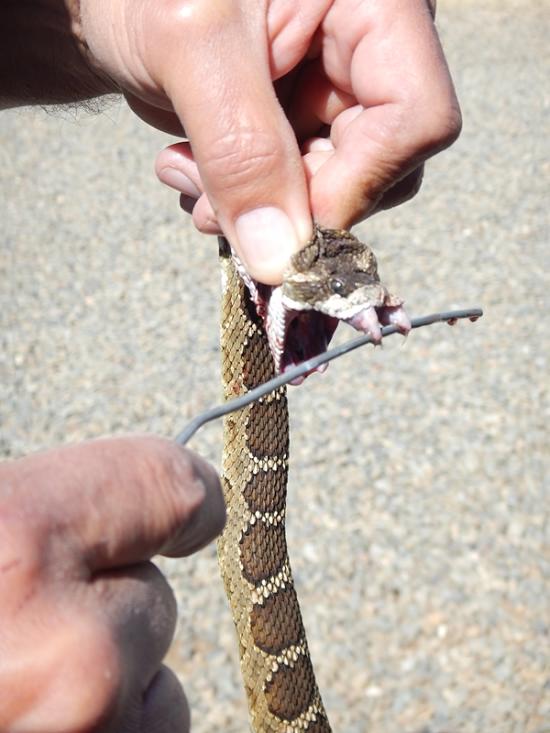 Author William E. Simpson displays the fangs of a Pacific Rattlesnake; it's deadly venom is seen dripping off the wire. Photos courtesy of author.
by Capt. William E. Simpson II
5-31-2017
Website

Looks like it's shaping-up to be a particularly bad year for rattlesnakes and snakebites here in the Pacific Northwest and across America as many news stories are now reporting.
In fact, we killed 7 rattlesnakes around our Siskiyou County, Ca homestead so far, just in May! I did let one live and there's a picture of him in my previous article, "Mr. Grumpy Rears His Ugly Head – Again."
When these pit-vipers (rattlers) are operating in close proximity to people, homes, pets (horses & livestock) accidents can and do happen. In these cases where a venomous snake presents an unacceptable 'danger-close' risk, I prefer to eliminate the risk by killing the viper.
Here's two rattlers (photo below) that my wife Laura killed just 15-minutes apart in her bird garden on May 26th. She was wearing flip-flops when she noticed the first one that appeared a few feet behind her. So after killing it using a few rocks, she got her boots on and when she returned to finish filling the bird feeders (15-min.) there was another one waiting.
Of course, my buddy Mr. Gnome (in photo above) isn't impressed, he sees-em all the time... he lets anyone into to his garden parties.
Then, a little later the same day, Jack our trusty McNab dog started a warning bark; he had found another rattler in the driveway... this one was even bigger... maybe 4.5 feet.
And the season has just begun! Families who are planning on spending vacation time at the lakes, rivers and streams (places with water) should maintain an extra careful lookout over children and pets. Like most other snakes, rattlesnakes absorb most of the water they need from their prey. It's usually their prey that requires the water. However, venomous snakes maintain habitats in the mountains, forests and in driest areas as well, such as the deserts of Eastern Oregon, Nevada, Arizona, Texas, New Mexico and yes, Southern California.
When I pulled the fangs forward, venom begins to flow.
A large male rattler (photo above) is seen hiding in my wife's rock garden near the bird feeders/water. This well-camouflaged snake remained unseen by my wife even when I pointed to it. The heat sensing pits on the snakes nose are easily seen (black colored pits)... and allow the snake to strike and hit warm blooded animals with deadly accuracy. Depending on variables of temp and humidity, Rattlesnakes are most active during the hot days of summer early in the day from around 7:00-11:00 AM and then again early evening from around 4:00PM through sundown and early evening. They spend a lot of time around areas that attract rodents (chicken coops, bird baths and feeders, barns, areas of litter and garbage, etc. Because rodents do require water, and the snakes know this instinctively, places where there is water and food suitable for rodents are prime real estate, and snakes like to lay waiting in nearby shady places in ambush.
The Pacific Rattler is fortunately not as deadly as many other poisonous snakes in America. South and southeastern CA, Arizona, New Mexico, Utah, Colorado, Nevada have numerous species of rattlesnakes, including some areas there, which have been known to host the Mojave-Green Rattler, whose venom contains both a hemo-toxin and a neuro-toxin... a devastating combination!
The Pacific Rattlers hemo-toxin poses an additional threat to folks who are taking blood thinners, and therefore, requires special attention. Attending EMS personnel and doctor(s) should be made aware of any drugs that have been taken during the intake process for snakebite.
As many folks know, I grew-up in the Applegate Valley of Southern Oregon where we had our fair share of Pacific Rattlesnakes. And I have collected and studied snakes as a hobby for decades, so I have extensive experience handling and dealing with them, meaning; don't mess around with any snake unless you have the knowledge and experience! Handling any venomous snake, even when it is dead is extremely dangerous and should never be done except by expert handlers.
Folks with questions, feel free to contact me via my email contact form.
Snakes are mostly beneficial, so unless you have a rattler near pets, livestock or the house, don't kill them; they eat mice and rats, which do a lot of property damage and spread disease.
It's interesting to note that many snakebites are instigated by inexperienced people attempting to kill a snake.
Bill with a beneficial gopher snake
The 5'4" viper (Pacific Rattlesnake) above is one of the largest Bill has dispatched in Nor. CA/OR...
It had 12 buttons... second most, behind a larger Rattlesnake that had 18.
Have a safe and fun Summer!
William Simpson is the author of Dark Stallions – Legend of the Centaurians, proceeds from which go towards supporting wild and domestic horse rescue and sanctuary.

Capt. William E. Simpson II is a U.S. Merchant Marine Officer with decades of boating and expedition sailing experience, having logged more than 150,000 miles at sea. Simpson has successfully survived long-term 'off the grid' at sea and at remote uninhabited desert islands with his family for years at a time. He holds a U.S.C.G. 500-ton captain's license for commercial-inspected passenger vessels and he is also a commercial airplane and helicopter pilot.

Simpson spent his formative years growing up on the family's working ranch in the mountains of Southern Oregon, where horses were an integral part of the daily life. William left the family ranch to attend college, which turned out to be a stepping stone into a bizarre lifestyle that led him around the world on an entrepreneurial quest. An adventurer at heart, Simpson and his best friend and wife Laura, spent many years at sea during two sailing expeditions (1991-1994 and 2008-2011) where they experienced some of the many wonders and mysteries of nature. Since retiring, Bill and Laura have changed lifestyles and are once again engaged in a new adventure; living an off-grid lifestyle in the remote wilderness of the Siskiyou Mountains, where they enjoy coexisting with herds of wild horses, along with a myriad of other wild animals. The staggering beauty of the local mountains and valleys is awe inspiring and has influenced Bill to frequently write on subjects related to wild horses as well as wild and domestic horse advocacy, rescue and sanctuary.
MyOutdoorBuddy.com © 2017. All Rights Reserved.
Website Hosting and Design provided by TECK.net