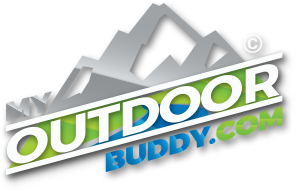 Your Source for Outdoor Adventure
Northern California and Southern Oregon
Pre spawn bass and crappie fishing is on!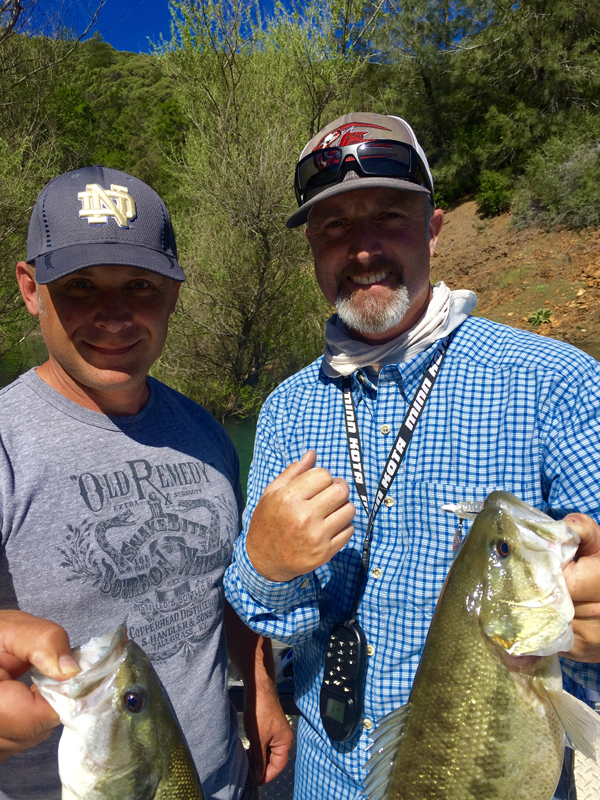 The author and Chuck Steen from Palo Cedro, Ca. posing with a double hook up they caught out of the willows on Shasta Lake with Shasta Bass Baits 3.5\\\" clear/holo spins.
Photo Credit: Jeff Goodwin Fishing
I've been working really hard producing Shasta Bass Baits in my home "bait lab", but I've also been fishing Shasta Lake for spotted bass and crappie every chance I get. Last week was no exception, and I'm happy to report that the bass and crappie fishing continues to be outstanding! I've been concentrating my efforts on the Sacramento arm of the lake, and for good reason. The bass are in pre spawn mode and they are eating everything you put in front of them.
I've been working the points for the most part and have found the grade of fish to be much better than the fish I'm finding in the coves. Now don't shy away from the coves because I am finding some nice bass there too. I'm also on top of the crappie that have moved up into the coves as well. One day last week, my group of anglers were catching far more crappie in the coves with trees than bass. I suggest if you want to target crappie, find a cove with trees, and fish it early in the morning or just after the sun drops behind the hills and is off the water. They seem to bite really well during those two periods of the day. Now the trees are just a piece of the crappie puzzle and they can also be found on adjacent mild sloping banks. Some times of the day they will be in the trees and a little hard to get to, but its usually when the sun comes up, or its because they are seeking cover after losing a few of their family members, if you know what I mean. Not only will they seek cover in the trees, but the shad are also hanging out in the trees as well so thats also another good reason for them to be there.
I'm about to start fishing the crappie with some grubs or skirts under a bobber so I can get closer to cover without hanging up, but I've been fishing the Shasta Bass Baits 2.5" clear/holo swimbaits with a lot of success. These same baits are a very good bet for spotted bass, who by the way, are hanging just outside of the trees looking for bait fish to eat as well. These little swimbaits are a great match for a shad pattern and are readily eaten by the bass and crappie on Shasta Lake. I've caught many bass in the 2 lb. class with these small baits so you won't be limited to catching the smaller ones either. I'll be carrying some of these baits with me when I'm at the boat launch or on the water so feel free to wave me down and I will give you some to try.
With Shasta Lake nearly full, I expect the good fishing to hold up well into the summer months as long as the water doesn't heat up too fast. Lake surface temps are running about 60 deg's now, but still has a few cool spots which are still under that mark. Boat traffic is on the rise and over the weekend I saw lots of people pulling boats and personal watercraft into the launch areas. We are still seeing rising water, and some pretty stiff winds on the lake. Please be aware of floating debris and small trees that are all over Shasta still, as they pose a significant hazard to the boater unaware of their presence. I have seen boats pulling inner tubes already, I'd hate to see someone get hurt after hitting a big log or chunk of wood during their day on the lake. That's it for this week! Tight lines everyone, and I'll see you on the water!
Jeff Goodwin is a full time Northern California fishing guide. He guides year round for salmon, trout, steelhead, Kokanee, and bass on Northern California rivers and lakes. He fishes many bodies of water in the Redding area, but also guides the Sacramento River and Feather River during certain times of the year. Jeff can also be found on the California coast chasing ocean fresh King salmon and steelhead each year. To learn more about the fishing trips Jeff has to offer, please visit Jeff Goodwin's Guide Service. You can also find him on Facebook, Instagram, and Twitter, or please feel free to call him anytime at (707) 616-1905.
MyOutdoorBuddy.com © 2017. All Rights Reserved.
Website Hosting and Design provided by TECK.net