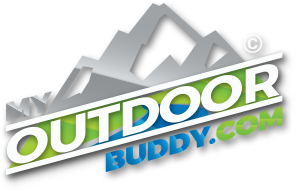 Your Source for Outdoor Adventure
Northern California and Southern Oregon
Fly Fishing Drift Trip on The Sacramento River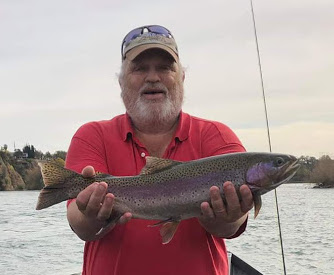 Photo Credit: Photo as courtesy of Lou Hubert
Fishing with friends always provides for a great day on the water, add in some big trout and the superlatives can get pretty heady. Epic, memorable, outstanding... pick one or just incorporate all or choose one of your own.
Tuesday proved to be one of those days not soon forgotten as I joined good friend and guide Lou Hubert and John Larsen for a fly fishing drift on the Sacramento River in Redding, launching at the Posse Grounds. The trip was to be the maiden outing for my new TFO 9.6 foot indicator rod and it was not to be a disappointment.
River conditions were a bit different from my last week's outing and the trout were a bit more selective with only a couple of strikes on beads in the upper stretches of the run just below the recently removed seasonal ACID diversion dam. Both fish broke off, but both were big fish. Other than that most fish were caught on flies; Olive Pupa, Peaches and Cream, a small epoxy back and Birds Nest. Four of the trout landed were over 20 inches.
But the highlight of the trip easily was a Rainbow / Steelhead ( remember that on the Sacramento River below Shasta Dam any rainbow trout over 16 inches is by definition a steelhead even if the fish had never ventured to the sea) that smacked my Bird's Nest fly just downstream of the Hwy 44 bridge. Setting the hook, the trout leaped out of the water, showing as a once in a lifetime fish, then beginning a series of surging runs until the boat could be maneuvered into slower water. The new rod performed well and the hefty trout was finally brought to the net. The picture does not do this fish justice as this thick, fat and colorful rainbow was easily in the seven pound range. It is without question the largest rainbow I have caught to date on the river and to catch it on a fly and release it back to the river was a thrill.
With the mild fall weather in the forecast for the next week or so fishing should continue to be solid. There are spawning salmon in the river and quite a few caddis in the air so the trout are feeding well.
Give Lou a call at 805-610-9412 to get in on some of this outstanding action as there are potentially even bigger trout to be caught. Remember again to have your Steelhead Card with you when fishing this region as any rainbow over 16 inches classifies as a steelie.
Gary Heffley has been a valued contributor to MyOutdoorBuddy for over 10 years serving as manager, sales representative and reporter for much of Northern California. He is an avid outdoorsman and loves to fish and write about his adventures. He has a long history in the Sporting Goods field and uses that extensive experience to impart his wisdom in his writing.
MyOutdoorBuddy.com © 2020. All Rights Reserved.
Website Hosting and Design provided by TECK.net