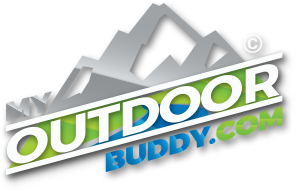 Your Source for Outdoor Adventure
Northern California and Southern Oregon
Lake Sabrina Fishing Report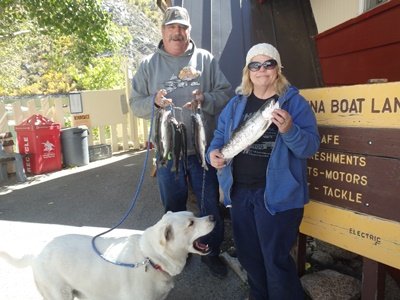 Photo Credit: Courtesy of Lake Sabrina Boat Landing Staff
by Lake Sabrina Boat Landing Staff
10-14-2019
Website

And just like that, many of the leaves have fallen around Lake Sabrina and another season has come to an end. The Café closed for the season with about 285 pies made this year. The Store and Boat Landing closed for the season at 1:00pm yesterday, Sunday October 13th and will reopen for the 2020 season on Saturday, April 25th. Fishing season closes on November 15, 2019 at midnight. It's sounding like Camp Sabrina, North Lake and Willow campgrounds are closed – still not sure about the other campgrounds.
It was another wild week at the Lake – both weather wise and people wise. Strong winds and cooler temperatures caused the demise of many of the fall leaves at the Lake Sabrina. There is still a lot of color, just not as bright. Only one tour bus so far this year on Saturday which caused a bit of havoc in the parking lot with them trying to get turned around. Then add in the many many cars and RVs circling the lot – it was quite a zoo!
Those that braved the photographers and cool weather did catch some fish. With all the wind in lately, not many were fishing, but it does look like fishing might be picking up. NightCrawlers at the Little George Inlet is what was working for those still fishing. Tasmanian Devils were the hot ticket trolling, but don't forget the Red and Gold Thomas Buoyant. Karen Stage went old school using a Dave Davis Flasher and NightCrawler to catch a 2-3/4 pound dinner. We did get another DFW stocking a week ago Thursday.
We have a new addition to the fur family – Kaos. We've had her about two months now and got her when she was 8 weeks old. She has caused a bit of chaos in the household with old man Maxwell growling whenever she gets close. Nimrod growls and swats and A.N.N. (Agent Ninety-Nine) has the patience of many many saints as Kaos loves to just sit on A.N.N. She's a Border Collie – QueensLand Heeler mix.
For those still coming up to fish, it looks like some awesome weather – cool, but not that biting cold. Here's the forecast from www.weather.gov – enter Aspendell, CA – scroll down a bit and that gives you the forecast for the small community below Lake Sabrina.
Monday
Sunny, with a high near 55. Northeast wind around 8 mph.
Monday Tonight
Clear, with a low around 34. Southwest wind around 6 mph.
Tuesday
Sunny, with a high near 61. Southwest wind 6 to 8 mph becoming northeast in the morning.
Tuesday Night
Clear, with a low around 38. South southeast wind 7 to 10 mph becoming southwest in the evening.
Wednesday
Mostly sunny, with a high near 62. South wind 9 to 13 mph, with gusts as high as 18 mph.
Wednesday Night
Partly cloudy, with a low around 39.
Thursday
Sunny, with a high near 58.
Thursday Night
Clear, with a low around 34.
Friday
Sunny, with a high near 55.
Friday Night
Mostly clear, with a low around 32.
Saturday
Sunny, with a high near 52.
Saturday Night
Partly cloudy, with a low around 31.
Sunda
MyOutdoorBuddy.com © 2020. All Rights Reserved.
Website Hosting and Design provided by TECK.net