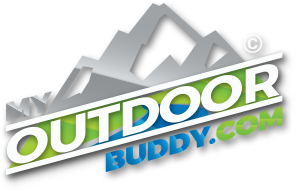 Your Source for Outdoor Adventure
Northern California and Southern Oregon
Lake Sabrina Weekly News Letter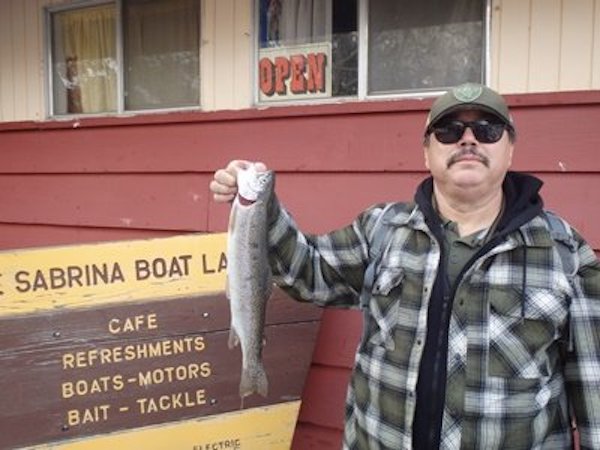 David Mosqueda 2lb Rainbow Trout
Photo Credit: Courtesy of Lake Sabrina Boat Staff
by Lake Sabrina Boat Landing Staff
6-10-2019
Website

And just like that we have a Lake! Temperatures started heating up last Tuesday and DingleBerry Creek picked up. Had a bit of Thunder and a few sprinkles Wednesday evening and about 10 sprinkles more on Thursday along with breezy weather. Weekend temps dipped a bit but look to be on the rebound this week.

With the rise in the Lake, we were finally able to float boats and you're able to get all the way to the back to DingleBerry Inlet. Don't forget about Little George Inlet all the way in the back and George Inlet about 200 yards up from Little George. You may also want to drift the channels between the two Natural Lakes and the front Natural Lake and manmade portion – Lake narrows down a bit in those spots and water moves a tad bit faster. David Mosqueda was off-shore fishing with PowerBait when he landed a nice 2-pound Rainbow. We let the Department of Fish and WildLife hatchery know they could get down to the Lake so hoping for our first stocking this week.

The Aspen are starting to leaf out at the Lake as are the CrabApples and Delicious Apples even the White Lilacs are leafing out.

If you plan to park down in the Lake bottom, please be courteous and park out of the way – don't park behind people you don't know – leave them a way out – don't park in the middle of the road – someone may want to get out or in – pull off to the side of the road and most of all – PICK UP YOUR TRASH!!!

The Café will be closed on Wednesday, June 19th for our normal closure, then Thursday, June 20th (to give me an extra off day) and Southern California Edison is planning the pole replacement on Friday, June 21st. Cardinal Village Resort in Aspendell and Bishop Creek Lodge will both be opened.

Hikers:
With the continued snow, many of the trails are still covered in snow, but there are also some areas that the snow has melted making for a wet trail. Also, with all the new snow, Spring avalanches are a bit of a concern. Please check the weather report prior to heading into the backcountry for an overnighter or two. Might want to hike with a buddy. Put a note in your car about where you were headed and when you think you'll return.

WHAT TO DO IN BISHOP AND SURROUNDING AREAS

CALIFORNIA HIGH SCHOOL RODEO STATE FINALS CHAMPIONSHIP
June 12 – June 15
Watch 300+ of the state's best cowboys and cowgirls compete at the Tri-County Fairgrounds in Bishop. For tickets and information, call Bishop Area Chamber of Commerce (760)873-8405.

FATHER'S DAY BRING DAD OUT TO LAWS!
June 16 @ 12:30 pm - 4:00 pm
Variety Show featuring local talent. Family acts with dads encouraged. Games, food booths, pie by the slice. The famous Laws Pie Auction at 2:30. $10 suggested donation for adults. Interested in performing? Contact Pete at lawsbod@gmail.com

INDEPENDENCE CELEBRATION WITH FIREWORKS AT PAIUTE PALACE CASINO
July 3 @ 3:00 pm - 9:30 pm
Admission begins at 3:00 PM. Fireworks usually start after 8:15 PM. Kids activities available. Free.

FOURTH OF JULY IN INDEPENDENCE
July 4 @ 6:15 am - 10:00 pm
Activities starting at 6:15am with the American Legion Flag Raising Ceremony at Dehy Park, followed by Lions Club Pancake Breakfast. Arts & Crafts, Historic walking tour of Independence then the "Critters on Parade" beginning at 10:00am. At 1:00pm there are kids games at the park followed by the ice cream and homemade pies event, which leads to the BBQ put on by the local fire department and community. Fireworks go off at sunset. Oh, and often there is a dance the night before at the park! To request a list of all activities and a Schedule of Events go to indyparade@gmail.com

AWESOME FIREWORKS SHOW AT BISHOP AIRPORT
July 4 @ 4:00 pm - 10:00 pm
Bishop Airport, 703 Airport Road
Spectacular fireworks show sponsored by the Bishop Fire Department. Bring your barbecue, coolers, and shade. After sundown, watch the night sky show. 4 PM – 9:30 PM. Contact 760-873-5863 for info.

2019 SUMMER TRAIN RIDE SCHEDULE AT LAWS MUSEUM
July 4th Friday, July 5th Saturday, July 6th Saturday, July 20th Saturday, August 3rd Saturday, August 17th Saturday, August 31st Sunday, September 1st November 29th, (11:00am-2:30pm) November 30th, (11:00am-2:30pm) Railroad operations start at 10:30am and end at 2:30pm each operating day, except as noted above. Rides can run until 3:30pm each operating day if demand warrants the extension. Tickets may be purchased in the Train Station. Prices are $5.00 per person, children under 13 ride free with an adult. This schedule is subject to change due to weather, […]

FREE FISHING DAY
July 6 - All Day

BIG PINE TROUT DERBY
July 6
50/50 Raffle.....$600 Blind Bogey... prizes for largest fish...largest limit (5 fish)...tagged fish...adult and juniors categories. No fishing license required. Free fishing day. Day of the Derby signup 6:30am-10:00am Country Kitchen, Big Pine. Early signups available at Country Kitchen. Special drawing for early bird entries.

FREE CONCERTS IN THE PARK
July 12 @ 8:00 pm
Live Music every Monday night through August. Bishop City Park Gazebo.

If you're looking for something to do while in Bishop, check out the Bishop Chamber of Commerce Website at https://www.bishopvisitor.com/ for lots of fun things to do for all ages.
Make sure you wear some kind of sun protection – the sun and reflection off the snow, ice and water will do a number on your skin and eyeballs! AND DON'T FORGET A JACKET!

Looks like we might be heading for Summer. Here is the forecast for the week from www.weather.gov (enter Aspendell, CA in the search and scroll down to see the temps).

Monday Night
Partly cloudy, with a low around 45. South southwest wind 10 to 15 mph, with gusts as high as 21 mph.

Tuesday
Sunny, with a high near 69. South wind 8 to 13 mph.

Tuesday Night
Mostly clear, with a low around 47. South southwest wind 9 to 17 mph, with gusts as high as 24 mph.

Wednesday
Mostly sunny, with a high near 70. South southwest wind 7 to 11 mph.

Wednesday Night
Mostly clear, with a low around 47. West wind around 11 mph.

Thursday
A 10 percent chance of showers and thunderstorms after 2pm. Sunny, with a high near 66.

Thursday Night
Mostly clear, with a low around 46.

Friday
A slight chance of showers and thunderstorms after 11am. Mostly sunny, with a high near 67.

Friday Night
Mostly clear, with a low around 45.

Saturday
A slight chance of showers and thunderstorms after 11am. Mostly sunny, with a high near 67.

Saturday Night
Partly cloudy, with a low around 45.

Sunday
A slight chance of showers and thunderstorms. Mostly sunny, with a high near 65.

Sunday Night
A slight chance of showers and thunderstorms. Partly cloudy, with a low around 45.

Monday
A chance of showers and thunderstorms. Mostly sunny, with a high near 64
MyOutdoorBuddy.com © 2019. All Rights Reserved.
Website Hosting and Design provided by TECK.net