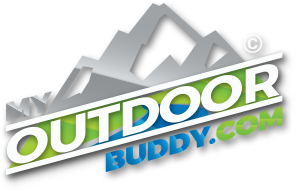 Your Source for Outdoor Adventure
Northern California and Southern Oregon
Pilot Study Begun – Wildfire Fuel Abatement Via Wild Horse Fire Brigade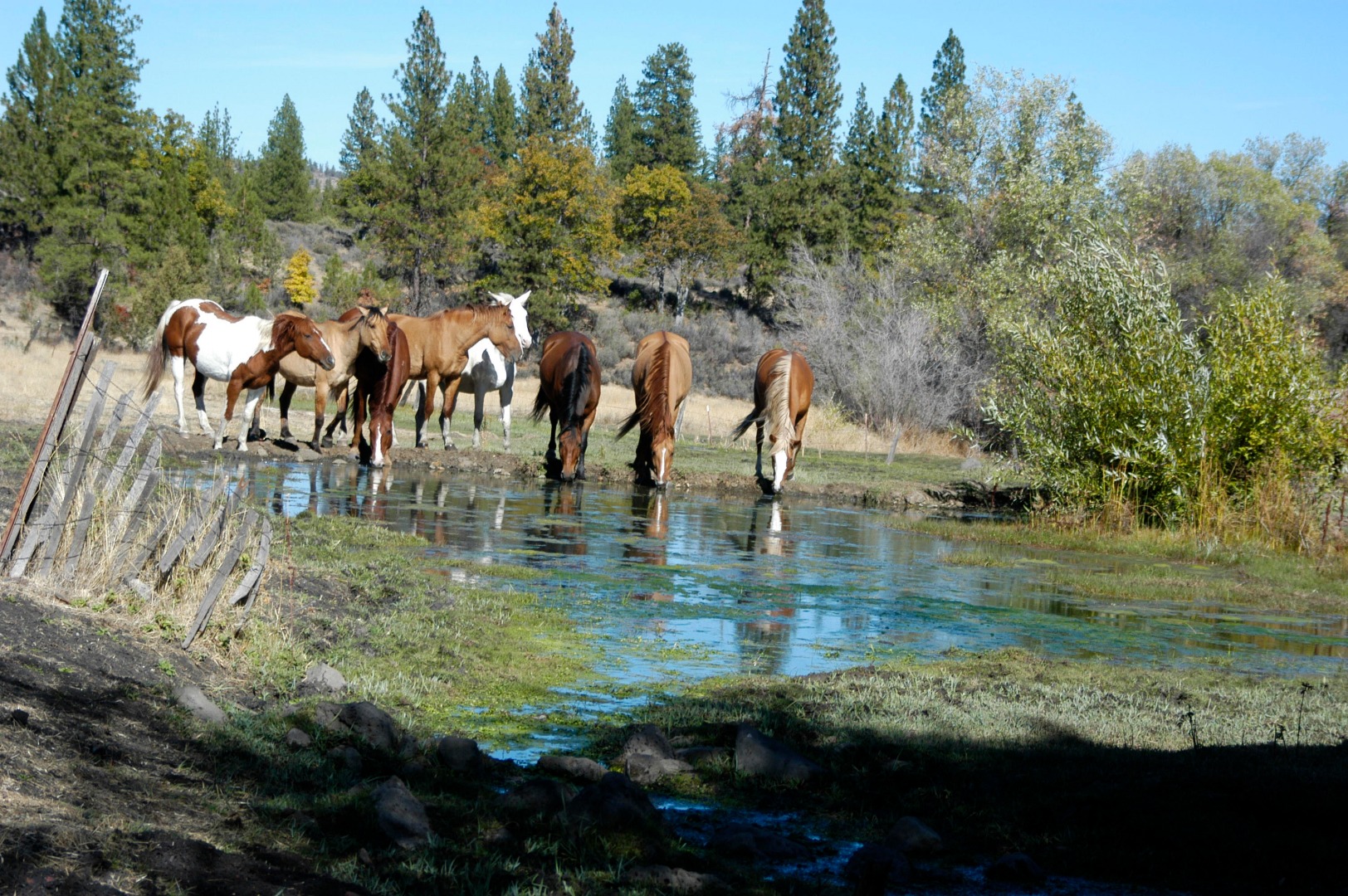 Native wild horses drinking at spring near Soda Mountain Wilderness; Oct. 12, 2018.
Photo Credit: Craig C. Downer
by Capt. William E. Simpson II
10-16-2018
OPINION

Website

After the devastating toxicity of 2018 wildfire smoke struck our local communities, including my own family, I redoubled my own efforts to help eliminate wildfire and its deadly smoke. During the 9-days I was providing assistance as 'local knowledge' on the Klamathon wildfire fire line, I saw many trees that survived that blazing inferno only because the local wild horses had grazed off the fuel from under these trees as well as having broken off all the low-hanging fire ladders. (see photo below)
On Sunday, September 30th, I received a phone call from Oregon Congressman Greg Walden and we discussed this serious issue for 29-minutes. Like so many others including Senator Alan DeBoer, the Congressman agreed we need every tool we have and a pilot test and research study of the Natural Wildfire Abatement And Forest Protect Plan is warranted. We also covered some of the misunderstandings as to the possible deployment of wild horses in that they would never be deployed into any areas where livestock could accomplish the same job. We only have a relatively few wild horses for use and they must only be deployed into the most remote wilderness areas where livestock cannot be used due to robust predator populations and difficult access.
So talking turned to action. I reached out to our friend Craig C. Downer who happens to be a wildlife biologist, and who like Laura and I, also studies wild horses and who had at one point in his career worked for the BLM on their wild horse program.
On Oct. 11th, we began a cooperative research study of the Natural Wildfire Abatement And Forest Protection Plan, also known as the Wild Horse Fire Brigade. Here are the basics:
Ecosystem-study: To determine the suitability of the pilot-project called Wild Horse Fire Brigade, I evaluated the fauna and flora on the California side of the Soda Mountain Wilderness Area. My review found few large-bodied herbivores. Therefore, it was not surprising that excess vegetation has become established throughout this remote, rugged terrain. Although wild horses are present, their numbers are below the ecosystem's carrying capacity, likely due to the abundance of mountain lions and coyotes. The current stocking-density is 1 horse per 250 acres. However, the land can easily support 1 horse per 30-to-50 acres. Water-sources are sufficient, even at higher elevations. Despite their low numbers, these privately-owned wild horses are grazing down the vegetation, especially under conifers and oaks.
No Smoke: Wild horses offer a smoke-free way of reducing ground-fuels. Just one wild horse can abate more than 5 tons of senescent grass and brush every year without risk of fire. Contrast such preventive grazing with prescribed burning or, in other words, pre-grazing v. pre-burning. Burns inflict immediate damage on the ecosystem. The fires can spread out of control. They also produce copious smoke. Smoke-exposure is particularly toxic to children, the elderly, and those with heart or lung conditions. Research shows a correlation between smoke-exposure and autoimmune and neurodegenerative disorders.
Cost Advantage: Wild horses graze for free year round. They are the no-cost option. Prescribed burns cost taxpayers $400 an acre and must be repeated every year.
Economic Boon: Wild horses are tourist-magnets. Your area could become an eco-tourist destination. Visitors would spend dollars at local restaurants, motels, and retail shops. Jobs would be created. Better to be visited by photographers than by fire-fighters!
Here are four advantages you have over the competition for market-share:
1. Unique angle: The Siskiyou Wild Horse Fire Brigade would be the first pilot-project to demonstrate wild horses' natural fire-prevention role. Visitors would learn about this and other benefits that wild horses impart to the environment, such as improving soil-conditions and reseeding native vegetation.
2. Easy-access angle: Visitors to herd management areas often complain that they can't find any horses. However, during my inspections of the Simpson ranch, I regularly observed wild horses. Such encounters happened even during brief stops, often without my needing to exit my vehicle. Thus, you offer easy access, whether by vehicle or on foot, and a high probability of sighting wild horses.
3. Historic angle: Cultural and paleontological evidence shows that wild horses have inhabited the Soda Mountain Wilderness of Southern Oregon and Northern California for millennia. New research into Native American history evidences a pre-colombian horse-culture in the Americas.
4. Scenic angle: Wild horses enhance the viewshed. Promotional materials use the word "breathtaking" to describe them. Your beautiful landscape and beautiful wild horses are powerful draws.
A full discussion of the pilot can be found here:
http://www.myoutdoorbuddy.com/articles/139528/re-balancing-the-ecosystem:-good-for-outdoor-sports;-reduces-wildfires-and-toxic-smoke.php
For these reasons, I enthusiastically support the Wild Horse Fire Brigade project.
Thank you.
Craig C.Downer - Wildlife Biologist
P.O. Box 456
Minden, NV 89423
Below is a list of 20 wild-horse attractions across the nation.
Arizona: Opportunity to visit and photograph wild burros.
http://www.outdoor.com/activities/photography/the-wild-burros-of-arizona/
California: Geotourism at the Carter Reservoir wild horse habitat.
https://www.sierranevadageotourism.org/content/carter-reservoir-wild-horse-herd/sieacdf9760551ada1e1
Colorado: Wild horse photo-tours are offered.
http://www.bigsunphototours.com/tours/colorado-wild-horses-tour/
Florida: Wild horses roam in Paynes Prairie Preserve State Park.
https://www.onlyinyourstate.com/florida/wild-horses-state-park-fl/
Georgia: Wild horses graze near old mansion on Cumberland Island.
https://www.wheretraveler.com/atlanta/play/wild-horses-georgias-cumberland-island
Hawaii: Wild horses roam the Big Island.
https://waipioonhorseback.com/history/
Idaho: Return of wild horses draws a caravan of viewers, photographers.
https://www.kivitv.com/news/wild-horses-roam-free-in-owyhee-county-thanks-to-the-blm-in-idaho
Kentucky: Tours of free-roaming wild horses to be offered.
https://www.kentuckyliving.com/explore/great-outdoors/horses-in-the-hills
Maryland: Visit the wild ponies of Assateague Island.
https://wanderwisdom.com/travel-destinations/The-Wild-Horses-of-Assateague-Island-Maryland
Montana: Start your tour at the Pryor Mountain Wild Mustang Center.
http://www.pryormustangs.org/tours/
Nevada: Reno Wild Horse Tours are offered.
http://www.renowildhorsetours.com/
New Mexico: Watch wild horses roam.
https://www.onlyinyourstate.com/new-mexico/watch-wild-horses-nm/
North Carolina: Visit the Corolla wild horses of the Outer Banks.
https://www.visitcurrituck.com/things-to-do/attractions/corolla-wild-horses/
North Dakota: Badlands wild horses of Theodore Roosevelt National Park.
https://www.tripadvisor.com/ShowUserReviews-g60973-d1911641-r244886636-Theodore_Roosevelt_National_Park-Medora_North_Dakota.html
Oklahoma: Wild horse sanctuary offers tourism-opportunities.
https://mowdyranch.com/
Oregon: Wild horses of the Steens Mountain Wilderness Area
https://www.onlyinyourstate.com/oregon/wild-horses-or/
South Dakota: Where visitors can see wild horses run free.
https://www.travelsouthdakota.com/explore-with-us/photo-essays/wild-horses
Utah: The Onaqui Mountains wild horses attract tourists.
http://www.wildhorsetourist.com/onaqui-mountains/
Virginia: See wild ponies on the Appalachian Trail.
https://www.smithsonianmag.com/travel/more-than-100-ponies-roam-free-this-park-virginia-180959786/
Wyoming: The wild horses of Pilot Butte draw tourists.
https://www.tourwyoming.com/explore/sightseeing-and-attractions/pilot-butte-wild-horses.html
William Simpson is the author of Dark Stallions – Legend of the Centaurians, proceeds from which go towards supporting wild and domestic horse rescue and sanctuary.

Capt. William E. Simpson II is a U.S. Merchant Marine Officer with decades of boating and expedition sailing experience, having logged more than 150,000 miles at sea. Simpson has successfully survived long-term 'off the grid' at sea and at remote uninhabited desert islands with his family for years at a time. He holds a U.S.C.G. 500-ton captain's license for commercial-inspected passenger vessels and he is also a commercial airplane and helicopter pilot.

Simpson spent his formative years growing up on the family's working ranch in the mountains of Southern Oregon, where horses were an integral part of the daily life. William left the family ranch to attend college, which turned out to be a stepping stone into a bizarre lifestyle that led him around the world on an entrepreneurial quest. An adventurer at heart, Simpson and his best friend and wife Laura, spent many years at sea during two sailing expeditions (1991-1994 and 2008-2011) where they experienced some of the many wonders and mysteries of nature. Since retiring, Bill and Laura have changed lifestyles and are once again engaged in a new adventure; living an off-grid lifestyle in the remote wilderness of the Siskiyou Mountains, where they enjoy coexisting with herds of wild horses, along with a myriad of other wild animals. The staggering beauty of the local mountains and valleys is awe inspiring and has influenced Bill to frequently write on subjects related to wild horses as well as wild and domestic horse advocacy, rescue and sanctuary.
The opinions expressed on MyOutdoorBuddy are those of the author and do not represent the opinion of MyOutdoorBuddy or that of the author's employer unless otherwise stated.
MyOutdoorBuddy.com © 2019. All Rights Reserved.
Website Hosting and Design provided by TECK.net