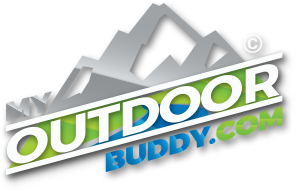 Your Source for Outdoor Adventure
Northern California and Southern Oregon
Endangered Species Losing to Klamath River Dam Removal?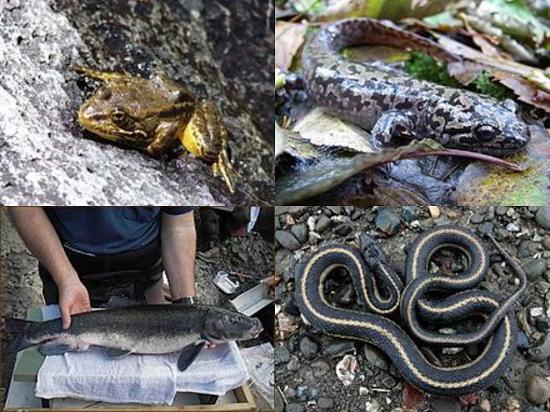 Starting at the top left going clockwise; Yellow Legged frog, Giant California Salamander, Giant California Garter Snake, Copco Lake Sucker Fish. Photos provided by author.
by Capt. William E. Simpson II
7-18-2018
OPINION

Website

Have you seen any of the species in the photo above in or around the lakes behind the Klamath River dams? Have you seen any other odd or rare animals or plants? This information could be valuable!
The confirmation of the existence of any one or combination of these or any other such rare and endangered species of flora or fauna would require a new fully vetted EIS to be conducted. This alone would necessitate the slowing of the reckless abandon in pursuing dam removal by the KRRC in a haphazard process, which is akin to the old 'bum's rush.'
As some folks know, on July 17th 2018, the Siskiyou County BOS conducted a special meeting where residents were allowed to attend a briefing by their hired environmental consultants SWCA.
To me, it was like attending the eulogy of a lost friend... only memories of what use to be.
What I expected, and maybe I expect too much, was a revelation that SWCA had found the chink in the armor of the KRRC beast that is bent on the destruction of the complex ecosystems provided by the lakes behind the dams, which support rare and endangered species, all so that a wealthy corporation can make even more money.
The list of logical sensible reasons for keeping the dams in place would fill at least several pages. Contrarily, the list that supports the value of dam removal is one line on one page; the wealthy get wealthier... Pacific Corp is owned by Berkshire Hathaway, and Warren Buffet is the key stock holder there.
There is certainly an argument to be made for having a 'Plan B' should the efforts to save the Klamath River Dams and their diverse ecosystems 'somehow' fail, and I think everyone understands that necessity.
But what we really need is a 'can do' attitude, and we need it now.
I arrived at the meeting during the SWCA presentation section regarding 'recreational options.' And having led many teams of people on the high-seas as the captain of a ship and as a CEO in a board room full of shareholders, I feel I can read people as well as most. With that said, I listened to a man who appeared to be in his 20's (Ian Todd) from SWCA cheerfully promoting the value of the 'recreational options' that were already being built into the post dam removal plan. Maybe we can all go into the winter river inner tubing business, since the upper Klamath River nearly runs dry in mid to late summer?
During most of the presentation, two younger associates of SWCA seemed to be upbeat and smiling, and in a manner, selling the citizens of Siskiyou County in the audience on accepting the worst as inevitable. From my chair, the presentation verged on promoting the expectation that citizens maybe should be grateful for the crumbs we'll have left after the Klamath Dams and our water are gone and having our privacy and properties breached for well inspections lest we be short changed on the value lost related to well failure or diminished production.
I guess the two younger presenters for SWCA can do that since they are still young and can remake their lives if they were subject to any such situation, while many citizens of this County cannot. And they are not invested in this County like many people in our County who are multi-generational citizens and retired people and who are not working our way up some career ladder.
Basically from what I could determine, they are taking our Dams on the Klamath River and leaving us with 'rafting and recreation options,' a consolation prize as enthusiastically presented by Ian Todd of SWCA. Maybe that option excites him, but it isn't worth a cow fart to me.
Why should rafting, fishing and environmentalist interlopers from outside our County be provided with priority input and influence in this process over local tax payers and landowners? How is it these outsiders who pay no taxes have already so fully infiltrated and influenced the process and resulting 'options' that we are now presented with what is essentially their desires already baked into the consolation cake in a take-it or leave-it manner?
I tried to keep an open mind, but all of my instinctive alarm bells were going off... telling me Siskiyou County citizens are getting screwed on this deal from every direction. It sure feels like we have been sold-out. And it's not just me saying that; many people have told me they have the same feeling and belief.
For those who attended either the Copco and/or Hornbrook KRRC meetings last month, the similarity in the sales pitches by the SWCA and the KRRC as to 'recreation options' is virtually identical... did they copy their crib notes from the same sheet? I had to wonder.
And there was relatively disproportionate mention of the loss of beneficial uses provided by the dams under the Klamath River Basin Compact by way of water for irrigation and domestic uses, flood control, hydro-electric power and conveniently abundant water for the fast-growing fire fighting needs, which arguably saved at least tens of thousands of acres of natural resources and homes in Siskiyou and Jackson Counties from utter destruction by the Klamathon Catastrophic Wildfire.
Frankly, trying to remain upbeat was tough... and it was already depressing seeing all of the damage to our County and parts of the Cascade Siskiyou National Monument, along with the loss of life and injuries related to the Klamathon Catastrophic Wildfire, where massive volumes of water from Iron Gate lake allowed brave hard-working fire fighters to prevail over a fiery beast set upon devouring a large chunk of our County and the Cascade Siskiyou National Monument.
However, in the midst of this meeting, there was a glimmer of hope; a more seasoned gentleman from SWCA who alluded to a different concern. And as an SWCA consultant to the home team (Siskiyou County). I think we need to listen to his advice. This man, Frank C. Shrier, the Senior Fisheries Biologist for SWCA, actually seemed to be aware of an important point that seems to be significantly overlooked by most people in regard to the removal of the Klamath River dams. The lakes behind theses dams provide the habitat that supports many known and potentially unknown-understudied rare and endangered species, which would be lost if the dams were removed. I have addressed this topic in this past article and in this article.
In fact, Mr. Shrier told me that he had studied the endangered Copco Lake Sucker Fish, and furthermore, that he has personally seen the endangered Giant California Salamander in Fall Creek, which empties into the lake, which provides critical habitat for both of these and many other species. Removing the dams on the Klamath would likely destroy this unique fish and its habitat, according to Mr. Shrier.
Could it be that the rare and endangered species impacts are being intentionally overlooked because such knowledge could put a monkey wrench into the gears of KRRC? And why hasn't our BOS already hired a team of scientists in this matter? Like my wildfire prevention plan, each BOS member was provided with the information (my article) about the rare and endangered species in and around the lakes.
After the meeting, I spoke with Mr. Shrier at length in private. As we discussed the value of showcasing the rare and endangered species in and around the lakes on the Klamath River and agreeing on the need for a new study, he cautioned me..."I am only part time" and proceeded to explain there is a serious limit to what he could do under his current scope of work, regardless of the endangered and threatened species and habitat at risk.
He also wholeheartedly agreed, someone (Siskiyou County?) should hire an independent team of wildlife biologists to immediately begin a study and document the existing rare and endangered species that live in and around the lakes formed behind the Klamath River dams now at risk of obtuse destruction. The publication and release of such discoveries into the mainstream media, and such illuminations could put the stopper on the dam removal project at least or until a new comprehensive study was completed and evaluated.
Meantime, maybe the County would step up and apply to FERC under their existing PUD for a license to run the dams? This is a workable and legal option for Siskiyou County, but is rarely discussed... let alone implemented. Why?
Without the abundant water stores behind the dams to fight fire, we can plan on doing a lot of burning of our homes, ranches, forests and breathing smoke all summer, every summer. Sadly, the once healthy lifestyle in Siskiyou County is now disappearing as did the economy. And the County itself has some culpability and exposure that is inextricably associated to the unilateral decisions the BOS has made and are now making for landowners with little or no input, who will suffer all the consequences and harm, while opportunities to save the dams are denied and overlooked.
If the dams come out, the liabilities from landowner losses will certainly result in hundreds of lawsuits. And by comparison to the alternative of risk in running the dams as a County enterprise, the liability risk analysis is simple; taking over and keeping the dams is the smart move.
All this, while in the backdrop over the past years, I can't even get our County to allot the time to consider the Wild Horse Fire Brigade fire prevention plan for wilderness areas that is free of cost, as a part of a mixed herbivory wildfire grazing plan to help mitigate the costs and losses due to wildfire in our County. And now, once again, our County is burning. If these events and hallmarks were those of a publicly traded company, the stock would be tanking, and management would be replaced.
If the dams go, so will many citizens as they litigate their lost equity, pain and suffering. It would be a huge tactical mistake for the County BOS to underestimate what landowners will do when they lose their life's investments. I can easily envision several class-action lawsuits... environmentalists will sue for the loss of the rare and endangered species and habitat, fishing and river-keeper type organizations will sue when the river dosen't immediately re-bound with abundant clean cold water and fish, landowners will be suing for loss of value, use, quiet enjoyment, health problems from dust, smoke and water issues, and ranchers will have diminished water and reduced production, etc...
From my chair, it's been a tough week being a citizen in Siskiyou County and the future looks bleak.
But I had a tough dad (82nd Airborne - European Theater WWII; LAPD, etc.) on the ranch growing up, who taught us boys to fight hard to the very end... because you never know when the momentum of the battle will shift.
Sadly, while trying to find the right defensive mix to save the dams, we also have to look for the corruption in this process. And that's because with 79% of Siskiyou County voters who oppose Dam removal, there remains this progress to remove the dams, something is really rotten in Denmark.
On a brighter note, during the meeting, my phone rang (my bad, I forgot to turn off the ringer). So I went outside the Montague meeting hall and answered... it was the legendary patriot-rancher and property rights advocate Cliven Bundy, who had seen some of my emails and wanted to offer his help and advice.
Cliven's initial advice was to hang tough and engage our Sheriff (Jon Lopey) to stand for and with the citizens who elected him since he is Constitutionally bound to protect citizens rights; both personal and property.
The plight of the citizens of Siskiyou County, in this fight to save our life blood - our water and dams, is now on Cliven Bundy's radar, and he knows people. Take heart my friends and neighbors, the circle of support is quietly growing... and those who are on the wrong side of this fight and not helping, or worse, are working against our citizens, friends and neighbors will be discovered and outed sooner or later.
Please call, write and email Siskiyou County Supervisors and insist that the County hire a team of independent scientists to evaluate the rare and endangered species that make their homes in and around our lakes; it's our money they're spending after all, so lets spend it wisely. And as a part of that process, a panel of three citizens (no BOS connections) should be engaged to provide independent oversight and reporting of that process. And in this regard, I offer my time pro-bono for such a panel. Of course, as a matter of full disclosure, I am biased in saving the dams... what can I say; I have a dog in this fight.
Here are the contacts for Siskiyou County Supervisors:
Ray Haupt - Supervisor & Chair / email: rhaupt@co.siskiyou.ca.us
Ph: 530-925-0444
Brandon Criss - Supervisor / email: bcriss@co.siskiyou.ca.us
Ph: 530-859-5548
Michael Kobseff - Supervisor / email: mkobseff@co.siskiyou.ca.us
Ph: 530-918-9128
Lisa Nixon - Supervisor / email: lnixon@co.siskiyou.ca.us
Ph: 530-643-9023
Ed Valenzuela - Supervisor / email: dist2sup@sbcglobal.net
Ph: 530-926-1733
Elizabeth Nielsen - SWCA Project Coordinator / email: enielsen@co.siskiyou.ca.us
Ph: 530. 842-8012
William Simpson is the author of Dark Stallions – Legend of the Centaurians, proceeds from which go towards supporting wild and domestic horse rescue and sanctuary.

Capt. William E. Simpson II is a U.S. Merchant Marine Officer with decades of boating and expedition sailing experience, having logged more than 150,000 miles at sea. Simpson has successfully survived long-term 'off the grid' at sea and at remote uninhabited desert islands with his family for years at a time. He holds a U.S.C.G. 500-ton captain's license for commercial-inspected passenger vessels and he is also a commercial airplane and helicopter pilot.

Simpson spent his formative years growing up on the family's working ranch in the mountains of Southern Oregon, where horses were an integral part of the daily life. William left the family ranch to attend college, which turned out to be a stepping stone into a bizarre lifestyle that led him around the world on an entrepreneurial quest. An adventurer at heart, Simpson and his best friend and wife Laura, spent many years at sea during two sailing expeditions (1991-1994 and 2008-2011) where they experienced some of the many wonders and mysteries of nature. Since retiring, Bill and Laura have changed lifestyles and are once again engaged in a new adventure; living an off-grid lifestyle in the remote wilderness of the Siskiyou Mountains, where they enjoy coexisting with herds of wild horses, along with a myriad of other wild animals. The staggering beauty of the local mountains and valleys is awe inspiring and has influenced Bill to frequently write on subjects related to wild horses as well as wild and domestic horse advocacy, rescue and sanctuary.
The opinions expressed on MyOutdoorBuddy are those of the author and do not represent the opinion of MyOutdoorBuddy or that of the author's employer unless otherwise stated.
MyOutdoorBuddy.com © 2019. All Rights Reserved.
Website Hosting and Design provided by TECK.net