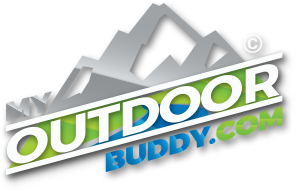 Your Source for Outdoor Adventure
Northern California and Southern Oregon
Death Valley in Winter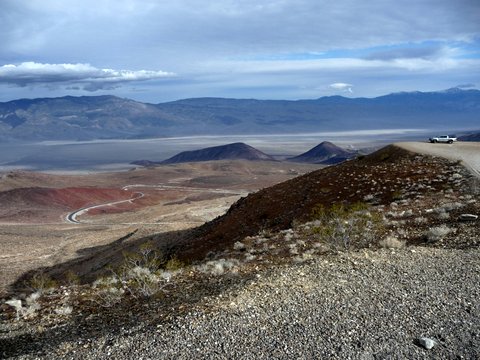 A small view of Death Valley's 3.4 million acres.
Photo Credit: Picasa, Google
My Wife Carol and I were invited to join my son Ted and his wife Dawn for a January trip to Death Valley. I had not given much thought to the temperature at that time of year, but when he told me it should be in the 60 degree range, I couldn't refuse. Besides it would give me a good reason to test my new Honda Ridgeline All-wheel drive truck. He made reservations at the Furnace Creek Inn and Ranch.
It seems when people talk about Death Valley it is always about the heat, but there is another side to the "Valley" in winter. The temperature can be mild, with cloud bursts that last only a few minutes, but can flood river beds and low roads. You must beware of washed out dirt roads and the soft muddy shoulders of paved roads. You are advised to avoid canyons during rainstorms and be prepared to move to higher ground if necessary. In total, Death Valley averages less than two inches of rain a year. During some years there has been no rain at all. But when it rains creek beds and low roads can quickly turn to raging rivers several feet deep.
About half way into the "Valley" I noticed several vehicle tracks that were on the shoulder of the paved road. It looked like the vehicles had sunk deeply into the mud. Then the drivers accelerated quickly, as they fish-tailed back onto the highway, barely avoiding getting stuck. Apparently it had rained a night or two before. I could see water in the desert landscape low spots.
They were lucky. I once saw a vehicle buried to the rear axle alongside a road just inches from the pavement. No one was with the vehicle. I imagine the owner flagged down another vehicle and was transported to a gas station that had a tow truck. Probably a great distance away.
As a kid growing up in the desert I roamed all over. My sister said, she always remembers me as, "gone hunting or exploring."
One day I was hiking across a wide dry river bed, almost as wide as a football field is long. It was a hot summer day, I could see a thunderstorm in the mountains to my right.
In the desert, it is not unusual to see a single black cloud formed in the sky, with a black curtain of rain reaching the earth. It was probably ten miles or more from where I was. Suddenly I got this eerie feeling. I observed in the distance what appeared to be a black horizontal line on top of the dry river bed near the base of the mountain. I had never seen anything like this.
As I watched, the dark line appeared to be getting bigger above the dry river bed. At first I thought it was my imagination or a strange mirage because it was so far away. As I watched, the line appeared to be getting closer. I continued crossing the river bed and slightly past the halfway point I saw the dark line looking much larger. Like a moving wall several feet high quickly approaching me. I started to run to the bank on the other side. The wall was racing toward me faster than I thought possible. I scrambled up the bank with barely a second to spare. The wall of water was 4 feet deep and the width of the river bed.
As I reached high ground, the water raged past. My next thought was how will I get home? The river was impassable. What will my parents say? They really had no idea how far I wandered from home, or what adventures I explored.
The mid to late 1940's was a different time. Children were often gone for the day. Parents didn't have to worry, they only required you be home for supper.
Within a few minutes the water went down rapidly. A few more minutes and the current slowed. The water was now only several inches deep. I walked downstream along the river bank to where I knew there was a paved road across the river bed. It would be a safe place to cross. As I got to the road I discovered a car washed off the pavement and turned sideways onto the river bed, which had now turned to deep mud. Apparently the driver had not seen the water approaching. I saw no footprints in the mud, so I assumed the driver escaped after the water had receded.
Death Valley is full of washes that look like dried river beds. If it is raining in the distance look toward the rain and up the wash before attempting to cross.
The Honda truck performed well and we felt secure because of the all-wheel drive on the many dirt roads we explored. The dirt roads were all well maintained, but it is advisable not to drive off them. What was really outstanding was Honda's independent suspension. It handled like a sports car on the highway, yet felt solid on the dirt roads. All the while getting an average of 23 MPG with 4 passengers and about 200 lbs. of gear.
We were disappointed Scotty's Castle had not yet opened. It is a Spanish style mansion built in the 1920's. It currently is closed due to severe storm damage from flood waters in October 2015. The flood waters moved part of the wall off the foundation. It left the canyon with mud and debris up to 15 feet high. Scotty's Castle is not expected to reopen before 2019.
Death Valley is a marvel of nature. There are sights you will not see anywhere else. I can't wait to go back.
Coachmaster Collision repair* is a past recipient of the District Attorneys award for honesty and integrity in business.

Don Stec is the founder of Coachmaster, a full service collision repair facility also specializing in the collision repair of RV's. Now retired, Don is proud to have sold the business to long time manager Allan Gordon. Call Coachmaster at 530-243-1310, or stop by at 6851 Eastside Road. Redding, CA.
MyOutdoorBuddy.com © 2018. All Rights Reserved.
Website Hosting and Design provided by TECK.net